Calaveras Cannabis Concerns Include Related Wildfires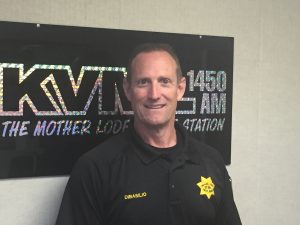 Sheriff Rick DiBasilio

View Photos
San Andreas, CA — The Calaveras sheriff shares thoughts and concerns as the county ramps up regulating medical cannabis cultivation under its local urgency ordinance.
On the plus side, Calaveras County Sheriff Rick DiBasilio says, "We are on the forefront of this and I think that we are going to set a precedent, if we can make this thing work. I know Colorado has some issues…I spent a couple of days [in Denver] last week, talking to them about their programs — but we are doing things in a better fashion than they are."
Describing efforts to-date, the sheriff confides, "The emergency ordinance has allowed us to get more funding to put more manpower on it and to deal with the marijuana grows. Is it enough at this point? No, but it is a start. We still have people starting grows who should not be..because they are starting after the May 10th deadline that the county imposed [under the emergency ordinance]. But those are just things that we just are going to have to deal with and combat as we get to them."
The sheriff estimates there are now over 700 commercial growers among the registered applications with the county planning department, admittedly "a lot" of background checks to complete, which will take some time. "I am in the process of hiring four extra hired help just to go through the backgrounds…it has changed the way we do business…it is just an added portion of our department, right now," he says, matter-of-factly.
Some Wildfires Tied To Cannabis Grows
While DiBasilio offers his perspective on several related issues, he emphasizes that, presently, "I think that what people really need to pay attention to is the fires. We have had quite a few fires in the past week and most of those fires have been caused by bad electrical connections from people trying to enhance their grow sites, with either their generators for their wells…or homes – or 'caddy shacks'…whatever they are living in. That big Appaloosa Fire was caused by faulty wiring from a generator and one of the fires [last] Sunday was caused from a generator where someone was trying to wire a well, or something. So the fires have been an issue and a lot of them have been directly related to marijuana grows."
Certainly, now while conditions are tinder-dry, all residents need to make sure that they do their due diligence to have that 100-foot clearance around their residence to keep their home safe, the sheriff says. For those who do not and cause a fire, like the two grow-related ones just referenced, he warns, "It is my understanding…that [CAL Fire] is going after those growers in a civil and criminal [neglect] aspect to collect their costs for doing business…recoup their fees for fighting the fires."
Earlier this week the Calaveras supervisors chose to push forward a locally-supported regulation initiative for voters to decide in November. Throwing in his two cents, the sheriff opines, "I was opposed to this particular initiative because it has a lot of unclear language that is not going to assist me in doing my job to protect the citizens of my county. So it is in the voters' ballpark right now." He points out that, if it does not pass in November, the urgency ordinance will remain in place until Feb. 14, 2017, when the board will reconvene to decide whether or not to extend it.
DiBasilio adds, "I understand that the folks…who want to [enact] the ban against marijuana are still doing a petition, to try to do a special election in March. My question to them was where are we going to get the funds to combat a complete ban, because, even if we say that we have a complete ban, it does not mean that [growers] are going to leave. At this point, that is water under the bridge. We need to deal with it."
Regulation Safer Than Bans?  
The sheriff maintains that Colorado law enforcement officials hold similar views that regulation is the way to go, since banning it in either state is no longer an option due to insufficient manpower and resources.
Too, he figures, the writing is on the wall for recreational marijuana to become law in the Golden State, perhaps following the November ballot, if voters give their nod. DiBasilio shrugs, "We need to get a handle on it. Every law enforcement officer I have talked to — for the most part — has come to the conclusion." He points to San Diego and San Benito counties as examples of jurisdictions getting overrun with illegal grow activities because they do not have local ordinances in place and lack dedicated enforcement resources.
As Calaveras works to get its arms around regulating its burgeoning cannabis industry, the sheriff admits, "To be honest with you, it is going to take a couple of years to get this under control. First of all we have to gear up with our manpower to be able to combat it. I think the marijuana growers know that…are going to take advantage of it as much as they can this year. I think that next year we will have manpower in place…the ability to control it a whole lot better."
The sheriff shares empathy with residents who would prefer the cannabis industry to pack up and leave. "I have a grow two doors away from me and there's another one that is probably about seven doors away…and they are pretty large grows," he says with the tone of one reluctantly resigned to the situation. "They have registered…have paid their fees, so in essence they are a legal grow — so there is not much I can do about it. Does it make me happy? No, but…I said at the board meeting [this week]…who am I to stop entrepreneurship? If that is the business that they want to be in — and the State of California states that it is legal at this point."
Still, It Ain't 'Like Growing Tomatoes'
DiBasilio chuckles, commenting, "There are a lot of different thoughts out there on where this industry is going…and how it is going to be dealt with. I have had people say, 'well you know it is just like growing tomatoes — you don't get to background check everybody that works on those sites.'  Yes, but people that grow tomatoes don't carry guns — that is where I have the issue."
Technological tools, such as the county's mapping system program will be key in enforcing the cultivation regulations. Numerous overflights of the whole county have already been recorded, according to the sheriff. He maintains, "We will know who did…and who did not have a grow prior to the May 10th deadline…if they started their grow after the fact, we can legally go in there and shut them down."
In time, he warns, enforcement officials will have the ability to shut "a lot" of the non-compliant grows. Too, he emphasizes, "If they register and say that they were in compliance — and we can prove that they were not — they will never get a license to grow, either through us or through the State of California, because if we deny them the State of California automatically denies them."
Asked about public safety concerns come harvest time at the end of September, DiBasilio states, "I cannot give you an honest answer because I don't know what is going to happen. I know that we had that triple homicide [in Rail Road Flat] last year where people tried to steal some marijuana and they got shot. Is that a potential again this year? Absolutely. But maybe because of the number of people out there…trying to be legitimate grows, they will have more eyes and ears for us to let us know what is going on. So hopefully, those issues won't reoccur."