Update: Press Conference Reveals New Details On Triple Homicide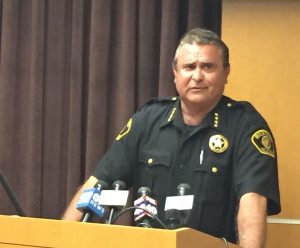 Calaveras County Sheriff Gary Kuntz holds a press conference on the Rail Road Flat area triple murder
Update at 4:30pm: At an afternoon press conference, Calaveras County Sheriff Gary Kuntz provided new information on a deadly multiple shooting in Railroad Flat that also involved an alleged medical marijuana theft. Sheriff Kuntz reported the three white male victims were from Stanislaus County, but he did not have their ages and would not release their names, pending notification of family. The shooting happened in the 1400 block of South Rail Road Flat Road.
As previously reported below, investigators state that 38-year-old Michael Grammer, who lives on the property where the marijuana grow was located, spotted the men trying to steal plants. Detectives say he then called his brother, identified as 30-year-old Jeremiah Lee Barrett, who arrived on the scene and allegedly shot the three suspects with a shotgun. Sheriff Kuntz explained, "The shooter [Barrett] who actually killed them, I think he…shot three shotgun rounds."
He also told reporters he did not believe the victims knew the brothers. With regard as to whether the three deceased men were carrying guns, Sheriff Kuntz replied, "I don't think they were, because they would have probably shot back." To view a video portion of the press conference, go to the upper left hand box or click here. To hear the entire press conference click here.
Original Post at 10:48am: Railroad Flat, CA — The Calaveras County Sheriff's Office reports that the three men that were shot in Railroad Flat yesterday were allegedly trying to steal marijuana.
Deputies responded Tuesday morning to the 1400 block of South Railroad Flat Road, and found three deceased adult males that had been shot. Two were in a dirt roadway, and the third was just off the roadway. The men have not been identified by the Sheriff's Office, but they are described as being "Caucasian."
The Sheriff's Office investigation uncovered that 38-year-old Leon Michael Grammer, who resides at the address, had spotted the men trying to steal plants from a medical marijuana garden on the property. Grammer then telephoned his brother, identified as 30-year-old Jeremiah Lee Barrett, who was asked to respond to the property.
Grammer allegedly armed himself with a firearm and shot several rounds towards the trespassers.  Barrett then arrived and allegedly shot the three suspects with a shotgun.
Following an investigation, Grammer was booked into Calaveras County Jail on $30,000 bail for being an accessory to the crime, and Barrett was booked on $2.5-million bail for murder.
Update: The three who were killed have been identified as 44-year-old Terry Glen Looney Jr. of Waterford, 46-year-old Wes David Smith of Snelling and 60-year-old Robert Daniel Haney of Modesto. Details are here.