Mother Lode Support For State Of Jefferson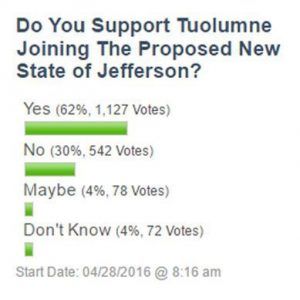 New State of Jefferson myMotherLode Poll

View Photos
A recent informal myMotherLode poll asked "Do you support Tuolumne joining the proposed new state of Jefferson?" The results were 62 percent in favor, 30 percent against, 4 percent maybe and 4 percent didn't know.
The idea of a State of Jefferson becoming the USA's fifty-first state is not new but extending it as far south as Tuolumne is. The original declaration for Jefferson to secede was made just before the Japanese attacked Pearl Harbor and forgotten during World War II. Most of the area involved counties north of Sacramento, and some in Southern Oregon. The California county of Del Norte voted on a ballot measure to join the proposed state and it did not pass. The counties that have expressed interest in joining Jefferson could create the 18th largest state in the U.S.
Details about the idea of creating a new state were in the news story "State Of Jefferson Movement Includes Tuolumne County" here. The interview with Joe Bick, local resident and advocate for the new State of Jefferson from the KVML "Newsmaker of the Day" is here. According to Bick, Tuolumne and the other counties included in the State of Jefferson have not had adequate representation in the California state legislature for the past several decades. Bick stated that only six senators and assemblymen come from the twenty northern most counties of California. In comparison, 35 of 120 come from Los Angeles County alone. As go the large population centers, so goes the entire state.
The "Jefferson" state movement is using the legal method of engineering a state split through the formula required by Article IV Section 3 of the US Constitution. This formula necessitates a greater than 50% majority of both houses of the state legislature and Congress approving the split in order to create a state out of an existing state or states.
Jefferson has raised $150,000 to sue the State of California for lack of representation. They estimate they now have about of tenth of what it will take to appeal the case all the way to the Supreme Court but note it is enough to make a case to the 9th district court.