State Government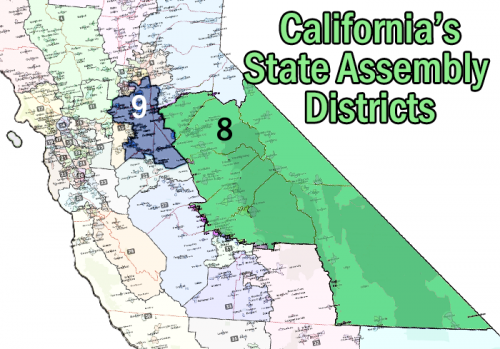 California's State Assembly has 80 districts with members elected to serve two-year terms, with all seats up for election every two years. The western edge of Calaveras is in District 9 while the rest of Calaveras is in District 8 with Tuolumne, Mariposa, and other Counties as of 2022 redistricting.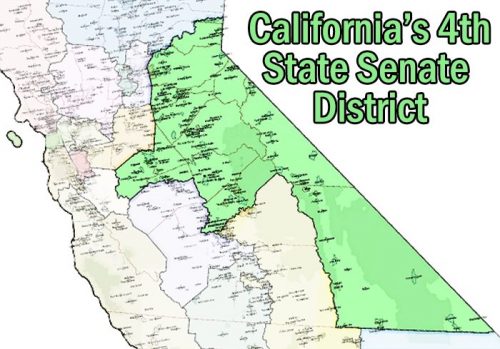 California has 40 districts in the State Senate. District 4 is a 13-county area that covers the rural and mountainous region of the eastern boundaries of California. The geographic area runs from Lake Tahoe in the north and down to Inyo County in the southeast. It includes all of Calaveras, Mariposa, Stanislaus and Tuolumne counties. The majority of the area was represented by state Sen. Andreas Borgeas before redistricting as detailed here.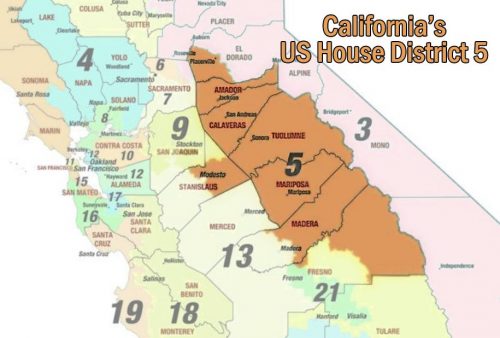 Congressional District 5 stretches from the eastern Sacramento area, through Calaveras, Tuolumne and Mariposa counties and down into Kings Canyon, jutting west into Stanislaus County to include a portion of Modesto, Oakdale, Waterford and Hughson, plus Turlock's east side and Denair. California lost a congressional seat in 2022 going from 53 to 52 with each of its congressional districts representing about 760,000 people.
4th Senate District – Senator Marie Alvarado Gil
1020 15th Street, Suite 21
Modesto CA 95354
9th Senate District – Senator Heath Flora
578 N. Wilma Ave Suite B
Ripon, CA 95366
US Congressional Representative 5th District Tom McClintock
8700 Auburn-Folsom Road, Suite 100
Granite Bay, CA 95746
mcclintock.house.gov
8th Assembly District – Jim Patterson
6245 N. Fresno Street Suite #106
Fresno, CA 93710
Other State Government Offices
Baseline Conservation Camp P.O. Box 906
Jamestown, CA 95327-0906
Fax: (209) 984-0529  
(209) 984-5287
California General Service Department 2 South Forest Road
Sonora, CA 95370-4802  
(209) 532-4180
Caltrans Maintenance Station P.O. Box 599
West Point, CA 95255-0599  
(209) 293-4400
Central Sierra Child Support Agency 975 Morning Star Dr Sonora CA 95370  
(866) 901-3212
Corrections Department P.O. Box 497
Jamestown, CA 95327-0497
Fax: (209) 984-0914  
(209) 984-5291
Fairs & Expositions P.O. Box 489
Angels Camp, CA 95222-0489
Fax: (209) 736-2476  
(209) 736-2561
Fairs & Expositions 220 Southgate Drive
Sonora, CA 95370-5054  
(209) 532-7428
Fish & Wildlife Department P.O. Box 159
Moccasin, CA 95347-0159
Fax: (209) 989-2701
(209) 989-2312
Highway Patrol-Jamestown-Sonora Office 18437 5Th Avenue
Jamestown, CA 95327-9601
Fax: (209) 984-3660
(209) 984-3944
Highway Patrol-San Andreas Office 749 Mountain Ranch Road
San Andreas, CA 95249-9707
Fax: (209) 754-4842
(209) 754-3541
Motor Vehicle Department – DMV 745 Mountain Ranch Road
San Andreas, CA 95249-9707
(209) 754-4042
Motor Vehicle Department – DMV 885 Morning Star Drive
Sonora, CA 95370-9249
(800) 777-0133
Sierra Railway Passenger Depot P.O. Box 1250
Jamestown, CA 95327-1250
(209) 984-3953
Transportation Department-California 18930 Ferretti Road
Groveland, CA 95321-8512
(209) 962-7801
VA Sonora Clinic 13663 Mono Way
Sonora, CA 95370
(800) 455-00571