Flows Below New Melones, Lake Tulloch Commence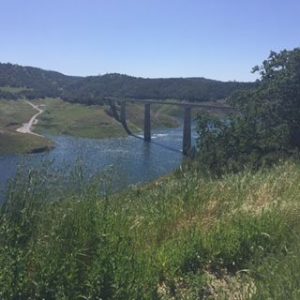 New Melones 4-18-16

View Photos
Sonora, CA – Supplemental fish flows began this week on the Stanislaus River below New Melones and Lake Tulloch at Goodwin Dam as part of an operational plan that also aims to leave both in better shape than last year.
As earlier reported here, Tri-Dam Partners Oakdale Irrigation District (OID) and South San Joaquin Irrigation District (SSJID), which have senior water rights on the Stanislaus at Melones, crafted an emergency change petition with the Bureau of Reclamation that the agency presented to the Water Board in early April. A delegation of Mother Lode officials attended the meeting to voice local concerns over what they saw as a need to keep more water back than was in the proposed plan.
Under the plan, which was approved just last week by the Water Board, the operators will not tap Lake Tulloch to provide relief for fish and farming downstream, easing concerns over the Tulloch recreational season and surrounding economy. Last year, the Tri-Dam partners signaled plans to potentially draw down those waters, which forced the Calaveras County Water District (CCWD) into an emergency pipe extension project so that it could ensure the water supply for customers in that service area, as reported here.
As for New Melones, which remains Northern California's most stressed reservoir, now standing at 26 percent of its total capacity and 41 percent of its historical average, as inflow slowly seeps in, Central Valley Water Project demands will be shortly drawing upon it. (Click in the upper left image box to view a current chart of reservoir levels across the state.) Under the urgency change petition, somewhat more water will be held back, due to somewhat eased requirements for maintaining downstream dissolved oxygen levels (DO) at .5 instead of .7. As the granted urgency change petition allows the reduction in the DO requirement and specifies that New Melones retains at least 415,000 acre-feet (AC) carryover water in storage at the end of September, the reservoir will not wind up at dead pool level, as it did last water-year.
Less Incentive To Store More Water?
Commenting on the Water Board approval of the plan after hearing the Mother Lode delegation weigh in at the hearing, Calaveras County Water District (CCWD) Director Dennis Mills says he is realistic but maintains frustration that more water storage is not being created. He also indicates that a new precedent is being set, as Tri-Dam, in allowing Reclamation to use its water allotment for fish flows, is now subsequently using the Stanislaus as a conveyance to redirect and then sell that water downstream instead of abandoning it in the delta, something he says was not done before last year.
Mills shares, "To the fact that they listened at the State Water Board to what we are saying is a beginning step. Did we actually get anything out of it? If we can get 10,000 to 12,000 acre-feet [more] of water stored at Melones, to me, that is a win. Did we get anything more than that? Probably not. We are not the players in this, at this point. We have been kind of isolated out of the picture."
Yet, Mills maintains, the functional and recreational value of New Melones and Lake Tulloch are a key part of the economical cycle in Calaveras and Tuolumne counties. "Certainly, 400,000 acre-feet is really nothing, in terms of how to make the best use of Glory Hole and Tuttletown — we need to see about a 50 percent storage capacity…to make any kind of use…the pumps that were installed at Glory Hole…Tuttletown…those pumps are useless at this point. They have to be replaced – they have been out of water too long. The ones Tuolumne County put in to augment their water for [Columbia] Air Attack are in mud. You need elevation, storage of water, and 400,000 acre-feet of water is…not enough to get the pumps in."
If the drought continues this year into the next and beyond, Mill predicts that the rules will somehow have to change. Shrugging, he remarks, "We can't continue to cash [the water out] without putting something back for a rainy day, and right now our ability for a rainy day storage at New Melones has dwindled to nothing."