Making A Case For Keeping More Melones Water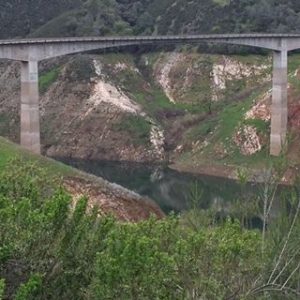 New Melones From Parrotts Ferry Road, March 6, 2016

View Photos
Sonora, CA — With no set official time-frame, state water officials mulling over a proposed operations plan for New Melones Reservoir anticipate a decision before April's end.
Clarke Broadcasting touched base with Tim Moran, State Water Board public information officer about the board's progress in addressing the Bureau of Reclamation's operational plan and change petition that was presented at a public session earlier this week (as reported here). During the meeting several Mother Lode stakeholders provided input on the numerous negative impacts being felt in Tuolumne and Calaveras counties, as a direct result of the reservoir's low level.
Moran replied, "I believe a decision is expected before the end of the month…as far as what arguments might have resounded, we can't comment on that, and I don't know. Each board member heard the workshop comments and will consider them."
Calaveras County Water District (CCWD) Division 4 Director Dennis Mills was outspoken among the attending contingent of local officials representing water, governmental and tourism concerns. Others included Tuolumne County Board of Supervisors Chair Karl Rodefer and Visitors Center Executive Director Lisa Mayo, who stressed the importance of the local lakes as a primary tourism draw.
A Dead Pool, Havoc and Costly Impacts
All reflected obvious concerns, some recalling that, by the end of the last water-year, New Melones was left as a dead pool at barely ten percent of its capacity with 267,000 acre-feet of storage. Levels were too low to use any of the boat launches and the lake's primary recreational draw, if one could call it that, became looky-looing and metal detecting around formerly submerged footings of the old town of Melones and the Old Parrotts Ferry Bridge, (as reported here). Operational plans of the Tri-Dam Partners to possibly draw upon the waters at Lake Tulloch for downstream fish and farm relief during its recreational season, as reported here, also wreaked local havoc. In order to help safeguard its water supply for thousands of affected customers, CCWD wound up spending close to a million dollars in ratepayers' dollars to extend system lake pipes (reported here).
While the Bureau's current plan includes a change petition that would allow more water to be held back, leaving somewhere between 400,000 to 500,000 acre-feet by September's end, Mills and others maintain that it is not enough to help a hard-hit region struggling to recover on multiple fronts. Mills requested that the board consider allowing New Melones to be brought back to 50 percent of its capacity at 1.2 million acre-feet, so that Calaveras and Tuolumne counties would have its full use, including the ability to operate the water pumps at Tuttletown and Glory Hole, which are currently out of the water.
"I spoke as the elected representative to the Calaveras County Water District, I am speaking, not for CCWD — or its board, but for the residents I represent in Angels Camp, Vallecito, and Copperopolis," Mills explains.
"What I told [the Water Board] is the County has been devastated by one of the most destructive fires in California history…devastated by a 'mudflat' last year called New Melones…devastated by the threat of losing our domestic water last year…devastated by the loss of low-cost power, because Melones could no longer generate power for our government agencies in these two counties – and we are devastated by the loss of our recreational ability on the lake. I mean, what more do you want from us, all in the name of fish?"
Water Board Not Fully Informed
The Water Board was surprised to learn, according to Mills, that the CCWD wound up absorbing the entire bill of the costly Lake Tulloch pipe extension. "They thought that the State Office of Emergency Services was going to come through with a grant for us to pay for [the pipe extension]," Mills recounts. While OES funding was discussed some months ago, it never materialized.
Asked how he thought the meeting went, Mills replies that he was impressed at the interest level displayed by the Water Board directors, particularly Board Chair Felicia Marcus. "Mrs Marcus was asking questions and asking for clarity, which I thought was very good," he replies. He adds, "To me, [the Board], just to have this workshop regarding New Melones at this juncture, within a given water-year, is an important first step – it has never been done before – they always seem to be doing this after the fact and then try to pick up the pieces."
Mills opines that the state and federal agencies involved with the water releases are drawing upon New Melones too heavily. He further questions why the Merced, Tuolumne and San Joaquin rivers are not equally sharing the imposed requirements to maintain certain salinity, temperature and  dissolved oxygen levels. "This is going to come to a head at some point, simply because the state and the Bureau of Reclamation are trying to micromanage the water, in hopes that using the fish as the driver to these decisions will give them their best result, but the biological data isn't backing them up."
In recalling the New Melones Project, Mills says, "As it was envisioned in 1944, it was for flood control, irrigation and recreation." Power generation, he points out, was added in 1962. Since the San Joaquin Settlement Agreement in 2006, Mills claims the dynamics and use of the entire Stanislaus River system and the Central Valley Project became altered. "Fish became more important than the promises made to the residents of Calaveras County, back when the project was presented to us in 1980," he laments.
A Call To Reconsider The Effects  
Continuing, Mills summarizes his comments that he shared with the board: "I told them that, currently the Stanislaus is the most studied river in the state, as to how the use of water temperature, turbidity, dissolved oxygen and flows affect fish populations within a river system. Despite those studies showing the cost benefit as minimal, there is a continued desire to waste water — in a futile attempt to save a few fish. So we are asking the state to consider the value — of that data in their decisions — and the negative effects on our local communities and economies."
While current regulations closely tie fish health to watershed health, Mills points out that the long-term drought has, in essence, brought many complex issues to a full boil. He says the time is ripe to take a much bigger picture look at the status quo — and that hopefully, it will allow the state and Bureau of Reclamation to seriously rethink how they are operating local river systems.