Proposed Water Plan For Melones, Tulloch In The Works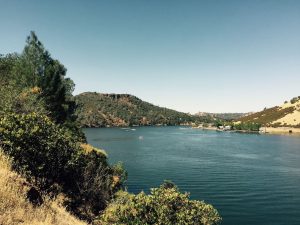 Lake Tulloch View

View Photos
Oakdale, CA — If plans are carried out as proposed, New Melones Reservoir will sit higher, come September, and Lake Tulloch will have a normal recreational season.
This, according to Tri-Dam Partner Oakdale Irrigation District (OID) General Manager Steve Knell, who shares that his district and partner, the South San Joaquin Irrigation District (SSJID), will join Bureau of Reclamation officials as they present their proposed operational plan for the remainder of the water-year at a public State Water Board session next Tuesday at 1. Among the goals, besides meeting all the required water flows, is to leave New Melones Reservoir in a better position that last year.
"Obviously, the reservoir is going to fill up significantly this year because of run-off, but also it is going drop off significantly because of all the demands that we put on it…for agriculture, for the environment," Knell explains. "What you want at the end of September to be is better than where you were last year, and last year we finished at 267,000 acre-feet of storage — in a 2.4 million acre-foot reservoir — so we were barely at ten percent. So hopefully, if our management plan works out well, we would have 400,000 or 500,000 acre-feet in New Melones…so we are adding to the pool."
Multi-agency Efforts Working Well
Knell figures that almost for every year the state remains in a drought it takes two to get out. "So Melones is going to fill very slowly — annual demands on the reservoir are equal to the inflows that come in on an average year, so we live on average in Melones," he states. Commenting on the multi-agency management plan efforts, he adds, "I think we have learned, at least in our basin, cooperation gets you a lot further down the road than not cooperating. I think everybody has played well and is doing what they can. Everybody recognizes the challenges we have and we are working well together."
Generally during average years the reservoir does not gain very much, if any, additional storage without some changes in outflow management. "This is the battle, and I think this is true for most of the reservoirs in California, because of water demands in the state and most of these reservoirs are fully committed on average years to meeting that need in the state…hence you have very slow reservoir refill — and it takes you years to get back to where those reservoirs were," Knell maintains. He further figures, "In a four-year drought it could be six to eight years before we are going to see Melones up at where it was in the 1.8 million to 2 million acre-foot of storage — and that is if we get above average snowfall years in those periods of time."
Knell has good news for those who are looking forward to an enjoyable recreational season out on Lake Tulloch. As previously reported here, last season's drought-led plans to potentially draw it down early for fish and farming concerns are not currently in the works. "This year for Lake Tulloch we see no more operations so Tulloch is now on its annual refill right now," he confirms, with more than a hint of relief in his voice.
A Great Rec Year For Tulloch Ahead
An afterbay to New Melones, summertime elevations at Tulloch help maintain a backwater condition at the New Melones outlet, which enable power plant turbines to run. Knell details that, according to the proposed plan, "Tulloch will creep up at a normal refill this year and will stay at its normal recreational level all the way until sometime in September, when they bring the level down for its winter operating range — we don't see any changes in those levels — we think we will have a great recreational year at Tulloch, with the reservoir being where it always is in the summertime, meeting those needs."
Knell shares a point learned in the wake of last year's multi-agency management plan was that when New Melones practically got down to its relative dregs, trying to control water temperatures downstream with coldwater releases for fish flows was almost impossible. "So at least we won't have all these concerns in drawing down Tulloch — all those discussions, efforts…just were not effective at a reservoir this low — so we are not even going to worry about it, which is why Tulloch will be at normal operations this year," he states.
The way things currently look, Knell confides that New Melones Reservoir will probably reach maximum storage this year in June at about 700,000 AF before winding up around 400,000 AF at the end of September. Offering a point of reference, he recalls that back in September of 2014 Melones stood close to a half-million AF.