Amid Water Woes Tulloch Project Continues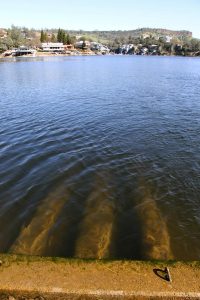 Lake Tulloch Current Intake Pipes, Image Taken Spring 2015

View Photos
Copperopolis, CA — Even if the Mother Lode is robbed of its highly anticipated wet winter, Lake Tulloch residents can rest easy about water supplies, local water officials say.
The Calaveras County Water District (CCWD) states that, with final plans now in place and custom pumps, on order for months shortly due to arrive, district personnel and an underwater contractor are ready to begin work on an estimated $650,000 improvement project that has been several months in the making. It is expected to take about a month to complete. The district is also optimistic that emergency drought relief funding will foot the bill for most, if not all the expenses, as the project has been identified as essential to maintaining water service to about 7,000 customers in CCWD's Copperopolis service area.
"The timeline for the project is that it is scheduled for completion by the end of September, and we're waiting for those pumps to arrive," explains district spokesperson Joel Metzger. Anticipating an imminent delivery, he adds that the equipment will not sit idly for long. "As soon as those pumps get here, folks should see some activity over by the intake [across from Drifters Marina], and we'll get that project going —  I don't know exactly when they are going to arrive — but I know that our guys are eager to get going on this," he states.
During the process, the system's intake pipes will be extended by about 350 feet, bringing the intake to 420 feet above sea level, some ten feet lower than the lake's "minimum pool" measurement. CCWD says the reconfiguration will enable it to reliably pump residential and fire flow water supplies, even if drought conditions continue to worsen.
Extenuating Conditions Necessitated Extension 
The project has been in the works since earlier this year, when the Tri-Dam Project partners first announced there might be a need to significantly tap reservoir waters, due to drought-related concerns, as reported previously. After an amended plan announced last week was reported here, news that some of Tulloch's cool waters would begin drawing down before the Labor Day holiday weekend in support of maintaining temperatures endangered species' fisheries downstream was hotly criticized by Lake Tulloch Alliance, a local landowners' association.
The decision to begin slowly drawing water before the end of Tulloch's recreation season also created some confusion as to whether it is the primary reason CCWD is continuing with the intake extension project this month. Metzger confirms that is not the case. "We are just moving forward as we had planned all the way back when the drawdown was first mentioned." Metzger is quick to point out that completing the project is vital for the district, not only for this summer and fall, but to prevent water emergencies with the Copperopolis water supply in future years.
"This is an extremely complex issue and there are so many interested parties…I think what is important to remember is that everyone is trying to come up with a compromise," Metzger remarks. "I don't think anyone is getting their way entirely…CCWD does not have any control over the way that reservoir is operated. It is really up to Tri-Dam and its member agencies…and they have to work with the National Marine Fisheries Service and the Bureau of Reclamation, operating New Melones Reservoir," he explains.
Certainly, Metzger says, "This is a rapidly changing situation that may change again, and furthermore, we don't know what's going to happen next year — if we do not have a significantly wet winter, we will be facing a similar situation next year, and in the years to come." It just comes down to not having enough water to meet everyone's interests, Metzger says. "Now that we have so little water in Melones, everything's changing." He adds, "This is only going to get more complex and challenging…we are just all hoping that we have a wet winter this year — so we can get back to somewhat of a more 'normal' operating procedure."