Drought: Draw Down Lake Tulloch?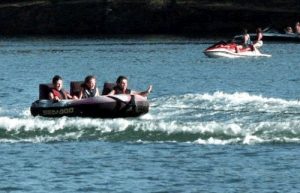 Lake Tulloch Recreation

View Photos
Oakdale, CA – For the first time in more than two decades, two irrigation districts are preparing the necessary paperwork to tap the waters of Lake Tulloch for drought relief.
According to Oakdale Irrigation District (OID) General Manager Steve Knell, at Tuesday's board meeting, his office was directed to send a letter to Tulloch land owners, warning of the real possibility that, this summer, the lake may be drawn down to meet agricultural needs downstream.
Knell states, "What we know right now from water demands that will be in the basin from the Bureau of Reclamation, to meet fish flows from the river and the two irrigation districts, is that it is likely New Melones Reservoir could potentially go empty this year. So the two districts are working very closely with the bureau in trying to manage and adjust some fish flows in the river."
According to Knell, the districts have already petitioned the state Water Resources Control Board to modify some of the release activities and are negotiating with the National Marine Fisheries Service as to minimum flows in the river that would still be sustainable to fish. They are also reevaluating water use, ahead of implementing tougher restrictions upon landowners and farmers to conserve more water than last year. The goal, Knell says, is to push as much water upstream and conserve as much in the basin as possible to avoid depleting Melones.
"We do know from the Bureau of Reclamation that when New Melones storage…currently right now at 600,000 acre-feet…when the lake drops below 350,000 acre-feet, they will lose the ability to generate power at New Melones," Knell says. Melones lake levels, if they continue to diminish, will at some point relegate Tulloch to serving as a regulating reservoir for the water districts. By April and the final snowpack report, Knell says the districts be able to determine base yields and move forward from there.
According to Knell, on Thursday, Feb. 19, at its Tri-Dam Partnership meeting in tandem with the South San Joaquin Irrigation District (SSJID) at OID headquarters (1205 E. F St), the districts will further discuss options and notifications necessary in order to drop the lake level. The meeting is scheduled to begin at 9 a.m. "We hope that we will have sufficient rainfall in March that we may forgo this decision but that depends on what March brings us, as far as precipitation," he says. "Our concern is that this drought will go into 2016. If we don't draw down the lake this year, which I believe there's a high likelihood we will, it will occur next year."
If Tulloch waters are tapped by the districts, Knell notes the obvious recreational impacts on using the lake and the need for property owners to remove their docks or take other protective measures. He notes, "How much [water] we pull out depends on what our demand is downstream…we'll have some people at our meeting on Thursday [speaking] about what the extent of the boat ramps are and how long we can maintain recreational value at Tulloch."