The Mother Lode's Favorite Lake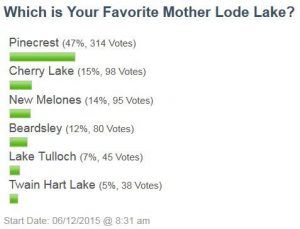 MML Informal Poll Favorite Lake

View Photos
An informal myMotherLode.com poll asked "Which is your favorite lake?" There are many more beautiful lakes hiding in this region but of course Pinecrest got nearly half, 47 percent, of the votes. Cherry Lake, parts of which were closed due to the Rim Fire but have reopened, beat out New Melones 15 percent to 14 percent.
Somewhat surprisingly Beardsley, far off the highway, beat out the more accessible Lake Tulloch and Twain Harte Lake. Visitors are limited at Twain Harte Lake because it is a private lake and the boat docks at Lake Tulloch are also gated.
The trail around Pinecrest is a 3.9-mile loop. In January Pinecrest had water storage at the lake of 8,300 acre-feet, compared to the holding average of 6,700 acre-feet and last year's storage figure of 3,400 acre-feet. More about Pinecrest is here.
Details about Cherry Lake camping and more are here.
New Melones Lake is accessible to the public at Glory Hole and Tuttletown Recreation Areas, and several other areas. It could be considered more of a river channel extending beyond the Parrots Ferry Bridge, but most of it lies on the other side of the Highway 49 bridge, or Stevenot Bridge. It has 12,500 surface acres of water and 100 miles of shoreline when full. The news story and photos of the old bridge that is now visible is here. Details on a water pump used during planned ditch outage to provide water mostly to the Columbia area are here.
Lake Tulloch consists of four main channels shaped like an "X" with 55 miles of shoreline when full. It was created in 1958. The most recent news about a project related to the continuing drought is here.

Twain Harte Lake has water and is ready to open, details were posted here.
Click here for more Mother Lode Lakes and Reservoir information.