Many "Lakes" in the Mother Lode are created by embankment or cement dams, they can be called reservoirs. We enjoy the beauty of each reservoir and prefer to drop the label and call them by their names.
Reservoirs are deeper at the dam and become shallower at the other end. The deepest part of a natural lake is generally at the center, keep this in mind when you are fishing! Here is a list of some of the more popular lakes in the area:
Beardsley and Donnell Reservoir are well known by locals who want to be at a lake but away from the crowd. For day use, camping, or fishing Beardsley is a lovely secluded place to enjoy summer! Beardsley is 7 miles from Highway 108 on the steep and winding Beardsley Road.
Recreation available at the lake includes; boating, skiing, swimming and fishing. Human contact with the water is allowed because the water has to be filtered several times before it becomes drinking water for Tuolumne. Water from the lake powers the Dion R. Holm Power Plant, a 165 MW hydroelectric facility.
Hetch Hetchy Reservoir is a concrete gravity fed dam that is 364 feet (111 m) high. It was completed in 1923 and is owned by the city of San Francisco.
Near the town of Ione in Amador county is a 400-acre lake, with 13 1/2 miles of shoreline and the most amazing fishing!
Lake Camanche is best known for great bass fishing, though it is also a favorite of trout anglers. There is room on the lake for personal watercraft, wakeboards, water-skis, and other towables in the summer. Electronic gates at North and South Shore open at 5:00 am and close at 11:00 pm year-round.

Don Pedro is the Perfect lake for a houseboat! 160 miles of shoreline and nearly 13,000 acre-feet of surface area (at maximum lake level), visitors can enjoy boating, fishing, water sports, swimming and camping.
The heart of central Calaveras' drinking water supply, Pardee Reservoir is great for fishing, boating and camping. Kokanee salmon, large- and smallmouth bass and catfish share the waters with trophy-size trout.
Situated on the Stanislaus River below New Melones Dam, Lake Tulloch is a recreational reservoir. The surrounding foothills block the wind providing great "glassy" water conditions for water skiers and wake boarders to enjoy. In the center of the lake there is more wind and sometimes enough for windsurfing.
New Hogan Reservoir New Hogan Lake is located in the oak and brush-covered foothills of the Sierra Nevada Mountains.

New Melones The lake is set in the foothills of the Sierra Mother Lode along Hwy 49 between Angels Camp and Sonora. New Melones has the size, depth and food sources capable of producing trophy size trout.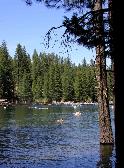 Pinecrest Pinecrest Lake offers camping, swimming and many water activites in the summer and also movies at Pinecrest Theater…
There are two Salt Springs Reservoirs in the Mother Lode. One is high in the mountains in the El Dorado National Forest in eastern Amador County. At an elevation of 3,900 feet the reservoir is formed by Salt Springs Dam on the North Fork of the Mokelumne…
Spicer Reservoir is located eight miles southwest of Highway 4 on Spicer Reservoir Road, a winding paved route where safe travel speeds average 20-30 mph. It has a surface area of 2,000 acres when full.