Addressing The Exposed New Melones Water Pump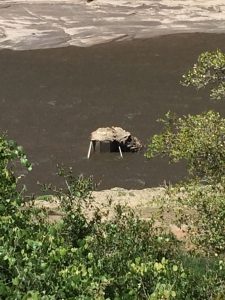 New Melones Water Pump courtesy T.U.D.

View Photos
Sonora, CA — A TUD discussion about what do with a pump that low New Melones water levels has exposed included two Tuolumne County supervisors, who participated, not as government representatives but as interested TUD customers.
District 5 Supervisor Karl Rodefer says, "Personally, I have been waiting so see this subject brought up for a while and I think the time is right. I would highly encourage you to certainly go forward with this project in the IRWM process. But also open up the dialog with the rest of the IRWM partners, because I think you are going to find some support in getting this thing done."
Several regional groups including TUD are involved in the IRWM or Integrated Regional Water Management to receive funding from the State department of water resources for previous regional projects are listed here.
District 2 Supervisor Randy Hanvelt states, "These pumps are a real asset, but as we have seen, and your pictures dramatically show… right now it is a useless asset. In fact, it becomes a liability in this case." Hanvelt also indicated that he agreed with Rodefer.
The pump at New Melones provides water to TUD customers in the Columbia area including fire operations at Columbia Air Attack Base.  TUD General Manager Tom Scesa noted that Cal Fire is seeking grant funding that would pay to pipe well water to the base but noted that it will be insufficient. Scesa says, "The first four days of the fire, when [Cal Fire] goes after it, they tend to be very aggressive and can use up to 100,000 gallons per minute. That equates to 140 gallons per minute and when we've only have 40, we are hoping to supply half of it with those [wells]." The other half, when there is a ditch outage, he noted, would come from the New Melones pumps in below average, or drought, water years.
The scope, development, and discussion about what type of water system the pump will involve and how much it might cost has only just begun. TUD General Manager Tom Scesa suggested a few options and gave the board an overview of how much it might run to have a consultant firm help define the project; he figured it as costing TUD between $25,000 to $40,000 to obtain $1 to $2 million dollars worth of work to the system.  The TUD board gave Scesa consensus to pursue hiring a consultant and to submit the project to the IRWM at its next meeting on June 22.