Update: PG&E Gives All-Clear Following Weather Event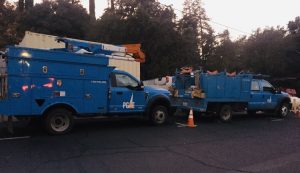 PG&E Trucks

View Photo
Update at 6:45pm: To view an updated story about the planned power outages planned for Tuesday and Wednesday in the Mother Lode, click here. 
Update at 6:17pm: Mother Lode OES officials are sharing updates on recovery from the current power shutdown.
According to Tuolumne County OES Coordinator Jason Terry, "The latest update shows 46 percent of customers restored in Tuolumne County as of 4 p.m. Crews will continue to work to restore lines tonight until they cannot see to inspect lines and will begin again in the morning. The goal is to restore as many customers as feasible before another potential PSPS event."

Calaveras County OES Director John Osbourn reports, "We are getting reports that Valley Springs is starting to see power as well as in San Andreas. This was confirmed by PG&E, who reports that about one-third of the customers in our county have been restored."
Early in the 6 p.m. hour the utility indicated 589,140 customer addresses were still without power, including 25,730 in Calaveras and 14,330 in Tuolumne counties.
Update at 3:37pm: PG&E reports that 770,777 customer addresses are in the dark. Of these, 31,532 are in Calaveras and 17,958 in Tuolumne counties.
On Monday, Governor Gavin Newsom issued a statement further commenting on a major investigation by the California Public Utilities Commission (CPUC) of utility-led Public Safety Power Shutoffs (PSPS).
He stated that he wants to see the CPUC launch a total reform of power shutoff rules and regulations. "Utilities must be held accountable and be aggressively penalized for their overreliance on PSPS, and the product of this investigation must be new rules and regulations to do that," Newsom mandated. "I also want to see customers not charged for PSPS. It seems obvious, but under the current rules, utilities can do just that. It's unacceptable and must be remedied."
Update at 2:24pm: More Mother Lode OES officials are sharing updates on the current and pending power shutdowns.
According to Calaveras County OES Director John Osbourn, "PG&E is inspecting lines with 47 aircraft and 6300-plus workers across the 30-plus counties. We have heard some pockets in the county have been restored, but that information is from word of mouth. We did see significant PG&E resources out and about this morning, so they are inspecting."
Despite an earlier map posted by PG&E outlining potentially impacted areas should the utility move forward with another PSPS event on Tuesday, Osbourn says the utility has NOT provided any updated outage maps, which his office and other OES offices were expecting to have by now. (View map in image box.)
"PG&E advises they hope to have them out in the next few hours," Osbourn continues. "At this time, and until we hear different, if you are currently de-energized, the safest assumption to make is that you will be included in the next event as well."
Currently, 816,170 customer addresses are without power across the state, including 31,665 in Calaveras and 22,963 in Tuolumne counties.
Update at 1:45pm: The latest PG&E power outage figures indicate 868,532 customer addresses across 35 counties are still without power, including 31,665 in Calaveras and 23,158 in Tuolumne counties.
Update at 1:23pm: Tuolumne County officials share the latest and confirm power is back on in some downtown Sonora government buildings.
Tuolumne County OES spokesperson Jason Terry reports, "We have seen the power come up in some of our county buildings in Sonora and anticipate continued restoration throughout today and into tomorrow."
He continues, "PG&E's goal is full restoration within 48 hours though this is still dependent upon damages received to infrastructure during the event." He confirms that the Community Resilience Centers will remain open until power is restored.
Terry adds that PG&E is still in the process of analyzing the forecasted weather event due to arrive later tomorrow morning. "We had hoped for an update this afternoon, but it looks like we will be waiting a few more hours to hear who may be impacted by this future event," he shares.
According to Terry, while PG&E is optimistic that the footprint of the event will be significantly smaller, no data has yet been provided to indicate the level of impacts to Tuolumne County.
He also shared a sampling of wind speeds recorded by the National Weather Service between 11:36 a.m. and 7:02 p.m. at various locations across the county, which ranged between 31 to 44 miles-per-hour. The highest ones were from Mount Elizabeth, north-east Groveland-Big Oak Flat, and west Strawberry.
BJ Hansen posted the following earlier updates.
Update at 10:57am: The power is beginning to come back on in some areas of Tuolumne County, and more areas will be added throughout the day. PG&E has not indicated which areas can expect to have power restored earlier rather than later.
Update at 8:10am: The Tuolumne County Office of Emergency Services reports that PG&E crews have received the "all-clear" from the weekend weather event. Patrols have begun to start clearing lines as part of the process of restoring power in the county. They have not yet provided restoration times for Tuolumne County, but we should systematically start seeing the power come on throughout the day depending on the level of damage received to PG&E infrastructure.
As for the next event, Tuolumne County OES reports that the two PG&E weather models overnight have shown that tomorrow's potential PSPS is likely to be smaller than anticipated and will affect fewer counties than originally projected. They do not yet have an update on whether this next event will still impact Tuolumne or Calaveras counties. More information should be known this afternoon.
Original story posted at 6:45am: Sonora, CA — Most schools in the region are either closed this morning or running on an altered schedule due to the lingering power outages.
Click here to find the latest information. In addition, Watch Resources is closed.
PG&E says it is planning to begin inspecting the lines in the Mother Lode early this morning ahead of turning the power back on.
PG&E, however, continues to warn that another wind event could come by tomorrow. The latest update is that power could be shut off again in the region on Tuesday morning and continuing through midday on Wednesday.
We'll pass along more information when it becomes available.
Click here to view a recap from yesterday.