Update: PG&E Anticipating Significant Winds This Weekend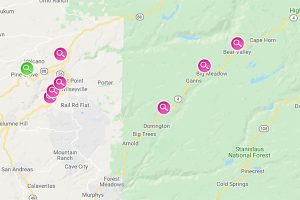 Remaining customers in PG&E PSPS in Calaveras County at 6:30 p.m.

View Photos
Update at 6:30 p.m.:  PG&E is working to have all the power restored in Calaveras County by 7 p.m. There still remains a total of 52,730 customer addresses in 13 counties without electricity of that number 2,880 are in Calaveras County. Most of those remain along the Highway 4 from Camp Connell to Bear Valley and in the Glenco area along Highway 26.
Update at 5:40 p.m.: PG&E reports that all but 3,744 customers remain without power in Calaveras County currently. Those customers are mainly in the Camp Connell, Mountain Ranch, Glencoe, Wilseyville, and West Point areas.
Update at 3:55pm: PG&E indicates of 112,971 outages still in effect, 8,779 are in Calaveras County.
Along with Sheep Ranch, the current outages are spread through small clusters around West Point, Wilseyville, Glencoe, and Rail Road Flat as well as up Highway 4 north of Murphys to Lake Alpine.
Update at 3:02pm: Powerlines continue to be re-energized in Calaveras County following the Wednesday shutdown.
According to the latest PG&E information available, 149,425 customer addresses across 18 counties are still without power. In Calaveras County, where PG&E anticipates restoration by 1 p.m. Friday, the number is 9,249.
Calaveras County OES officials report that the Community Resource Centers will continue to operate 8 a.m. until 8 p.m. during the outage.
Tracey Petersen and Tori James are also contributing to these updates.
Update at 10:40 am: Regarding the thousands of PG&E customers without power in Calaveras County, the Office of Emergency Services reports that PG&E has begun the process of inspecting lines and is planning to start restoring power in many areas shortly.
Original story posted at 9:30am: Sonora, CA — While around half of PG&E's service area in Calaveras County is currently without electricity, the utility continues to warn about the possibility of a larger outage this weekend.
Looking ahead, PG&E meteorologist Scott Strenfel says, "Some of the forecast models that we look at suggest that this could be the strongest wind event of the season."
He adds, "We don't anticipate any significant recovery in fuel moistures, and we are anticipating that fuels will be as dry, if not drier, than we have seen this year, so we are anticipating it to have the potential to be a very significant event."
We reported yesterday that PG&E has placed Calaveras County under an "elevated" threat of a planned power outage this Saturday, Sunday and Monday, and Tuolumne County on Sunday and Monday.
For the thousands of customers without power currently in Calaveras County, PG&E is hoping to begin the process of inspecting lines around noontime today, ahead of restoring the power. We'll pass along more information as it becomes available.
For preparation tips and more view our Power Outage Page here.