Update: PG&E Moving Forward With Power Shutoff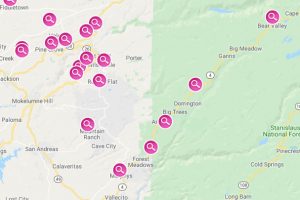 PG&E map of the completed PSPS in Calaveras County

View Photos
Update at 6:45 p.m.: PG&E is reporting that it has completed its power shutdown in Calaveras County with a total of 14,223 customers without electricity this evening. The first lights to go out were in the Murphys area at around 2:16 p.m.
The utility is still targeting line inspections to begin Thursday (Oct. 24) at noon with full power restoration by 7 p.m. on Friday (Oct. 25). However, as reported here, Clarke Broadcasting has confirmed that the Mother Lode could face another power cutoff this weekend due to a second gusty wind event heading into the region.
Calaveras County Water District is asking customers to conserve water during the outage to help lessen the load on generators. The district is also notifying customers of the potential for septic tank overflows for those using small electric septic tank pumps without a backup generator.
District spokesperson Joel Metzger warns, "It is very important to conserve water that will enter the septic tank, including water used in sinks, toilets, showers, washers, etc. In particular, sewage grinder pump tanks have essentially no storage at all and could overflow even with very little water usage. Residents in that situation would have to stop the flow of water immediately to avoid a spill."
Metzger adds that due to these concerns, the district is asking sewer customers in Mill Woods, West Point and Wilseyville to -only- use water for critical health and safety needs.
PG&E's Customer Resource Center at the Meadowmont Shopping Center on Highway 4 in Arnold is up and running. The hours of operation are from 8 a.m.to 8 p.m. Opening Thursday morning and with the same hours are the VFW Post 3322 on 202 Spinks Road in West Point and the Black Bart Players club located at 580 Algiers Street in Murphys.  Those sites will offer bottled water, Wi-Fi and charging stations.
To view school information for Thursday, click here.
Update at 4:45 p.m.: PG&E is reporting nearly 13,000 without power in Calaveras County. The latest areas without power include West Point, Wilseyville and Glencoe.
Update at 4:25 pm.: The number of PG&E customers without power has risen to 11,374 in Calaveras County as the utility continues to turn off the lights along the Highway 4 Corridor.
Update at 3:45 p.m.: PG&E is reporting 9,411 customers without electricity as its planned shutdown continues to move into new areas of Calaveras County including the Mokelumne and Arnold areas. Already without power since the two o'clock hour is Avery, Sheep Ranch and Mountain Ranch areas with the Murphys area the first to lose power at around 2:16 p.m.
Update at 3:15 p.m.: As PG&E continues to implement its power shutdown in Calaveras County. The number of customers without lights has grown to 4,442 as the outages are stretching up to the Avery area. Already without electricity since around 2:16 p.m. is Murphys, Sheep Ranch and Mountain Ranch areas.
Update a 2:30 p.m.: The lights have begun to go out in Calaveras County as PG&E is implementing its power shutdown. Already over 2,500 customers in the Murphys, Sheep Ranch and Mountain Ranch areas have had their electricity cut off. The utility says the entire PSPS will impact over 14,000 addresses in the county.
News Director BJ Hansen contributed the details below.
Update at 12pm: PG&E's map showing the planned power outage area stretches into a small part of Tuolumne County in the Camp Nine area. Tuolumne County Office of Emergency Services Coordinator Liz Peterson confirms that no Tuolumne County residences or businesses will be impacted, and it is merely some PG&E circuits physically situated in that area of the county that will be de-energized.
Update at 11am: PG&E confirms that it will move forward with a planned power shutoff to over 14,200 addresses in Calaveras County at around two o'clock this afternoon.
The Calaveras County Office of Emergency Services reports that resource centers will open at 8am on Thursday at the Meadowmont Shopping Center on Highway 4 in Arnold, the Black Bart Players location at 580 South Algiers Street in Murphys and the VFW location at 202 Spink Road in West Point. There will be water available and places to recharge electronic devices.
CCWD is urging water conservation during the outage.
More details can be found below.
Original story posted at 7:45am: Murphys, CA — Pacific Gas and Electric has reduced the scope of today's planned power shutoff.
Earlier this week the utility announced that it was considered shutting off electricity to over 200,000 customers, but the number is now 184,000.
No customers in Tuolumne County are on the list. Yesterday PG&E indicated that 14,586 customers in Calaveras County should be prepared to go with electricity, but the revised number is 14,235. It includes Arnold, Avery, Camp Connell, Dorrington, Douglas Flat, Glencoe, Hathaway Pines, Mokelumne Hill, Mountain Ranch, Murphys, Railroad Flat, Sheep Ranch, Tamarack, West Point, White Pines and Wilseyville.
Customers in Calaveras were given notice that the power will likely go out at around two o'clock this afternoon. PG&E is anticipating to give the all-clear from the expected weather event at noon on Thursday so that inspections can then begin. Full restoration should come by late Friday.
The utility notes that the information is subject to change based on the weather.