Mark Twain Medical Center Clinic Projects Make Major Strides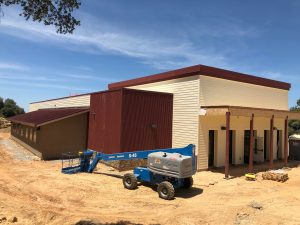 James Dalton Medical Center nearing completion July 19 2019

View Photos
San Andreas, CA – As a multi-million-dollar clinic nears completion, local hospital officials are sharing plans for a move and upgraded services at Copper Valley Town Square.
Speaking with Clarke Broadcasting about Mark Twain Medical Center's new James Dalton Medical Center still under construction in Angels Camp, Support Services and Development Director Ed Gonzales shares that the tentative completion date is Sept. 4.
However, finishing all the licensing requirements will probably take a couple more months, so it will probably be sometime in November or December before the 10,000-square foot facility is ready to swing open its doors.
As reported here, the hospital foundation raised $2.4 million to fund the new clinic and the original timeline estimated that it would be fully operational by July.
Gonzales attributes the construction backlog at least 45 rain delay days due to late-season storms, and the discovery of a significant amount of rock onsite that required extensive blasting and removal operations. The latter issue added nearly a quarter-million-dollars to the project cost. He adds that even after incorporating the stones into the landscape there are still literally tons that will need to be hauled away.
As far as what services will locate at the new center, located near the intersection of Stanislaus Avenue and Main Street/Highway 49 behind Froggy's Car Wash and Lube, Gonzales says original plans have significantly evolved.
Plans For New Center, New Copperopolis Offices
Currently, slated are pediatrics, primary care, psychiatry, gynecology, orthopedics, along with lab and radiology services with state-of-the-art digital imaging. He further explains that the MTMC/Dignity Health clinic in the SaveMart shopping center and some other remote offices will be collapsed just before their relocation to the new facility and that patient notices will be sent out in plenty of time to inform them of the move and timing.
Another new clinic location may be up and running by sometime in December, Gonzales confides, as MTMC relocates its health care offices tucked away at Tulloch Shopping Center off OByrnes Ferry Road to a 3,000-square foot spread across three or four suites at Copper Valley Town Square. He says that in addition to general practitioners, plans for the new offices include locating physical therapy and geriatrics services.
In fact, earlier this week MTMC officials met with the landlords to present their proposed plans for the space. "We are hoping to have something rolling in the next two months and hoping to have things up and running by the winter," Gonzales says with obvious enthusiasm. "If all the stars line up, that is our goal."
Continuing, he shares, "We are very excited…there's a lot of good things coming, the direction of the hospital, the senior leadership, everyone is really pushing and driving to get this to the next level. Three and a half years ago the perception of [MTMC] was not all the greatest and we had setbacks under former leadership."
Gonzales credits new CEO Doug Archer's "massive" vision for driving the changes. "I have been in health care for 37 years. I came from the Kaisers and Sutters…I am thrilled to be a part of how things are going under the new leadership," he states with obvious enthusiasm.
"It is a new day, not only for Mark Twain Medical Center but for our clinics as well and I think the surrounding community is going to be thrilled when we start rolling these things out…our goal is to provide that quality health care, that is just it! For many years it has been status quo. Our goals are to expand services, so people don't have to go to the Bay Area or [Central] Valley," he adds.
Among other projects in the works is a centralized call center down the hill from MTMC where the former Silver Oak practice was located. Gonzales says that MTMC is also working on obtaining some general practice office space in the still under construction Valley Springs Health and Wellness Center, set to open Sept. 20.
To view current images of the James Dalton Medical Center in Angels Camp, click into the image box slideshow.