Long Awaited Angels Camp Medical Center On Track To Open By Summer 2019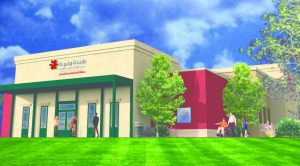 James Dalton Medical Offices Angels Camp Artist Rendering

View Photos
Angels Camp, CA – After years on drawing boards a dream for many will come true sometime in the mid New Year when a highly anticipated medical center opens near the heart of Angels Camp.
Dignity Health-Mark Twain Medical Center (MTMC) spokesperson Nicki Stevens shares with Clarke Broadcasting that following a ground breaking about six weeks ago, fencing is up around the property perimeter of the planned 10,000-square foot facility that will be located at 590 Stanislaus Street, off Highway 49/Main Street in Angels Camp, across the street from MTMC orthopedic offices.
With excavation now underway, Stevens says, "Everything is right on track. We are really excited about the progression…for those of us who have lived in this community for a long time and have been very passionate about this project we know that this has been a very long process."
The new center, named the James Dalton Medical Offices after one of the project's biggest boosters, will be akin to a one-stop shop for many medical needs: primary care, pediatrics, women's health, and tele health. Stevens says it will also house licensed clinical social workers, rotating specialty care providers, and laboratory outpatient services.
"As you can see from the road, [the location] has great visibility, a perfect view, and a wonderful location…we are anticipating that we will be ready for licensing in the summer of next year," she says excitedly, adding that the current financial commitment to the project is just over $7 million.
Foundation 'Relentlessly' Pursued A Community Vision
"What is really, really incredible about this journey and this project is that our local Mark Twain Medical Center Foundation has raised over $2.4 million for this much needed project, and this has been their vision for a very long time," Stevens continues. "These individuals and community members have been so dedicated, and relentlessly they have just pursued everything that they needed to do so that this project would be completed."
Speaking with warmth and reverence of the project's namesake, Jim Dalton, a Bay Area executive who semi-retired to his property off Dogtown Road. Before his untimely passing in 2010, he served on the hospital foundation and local youth mentoring boards, and grew gardens and a vineyard whose grapes today grace the vintages of several prominent local wineries such as Newsome-Harlow, Lavender Ridge, Val du Vino, Vina Moda, and Twisted Oak. Stevens notes that his family has continued supporting what for him is a legacy project. "He had such a good heart and I am proud to have known him — he was a wonderful man," she states.
She points out that the project's very location, which moved twice under different leaderships, wound up back at the original spot that Dalton planned. "This was his vision and location — he secured the property – and it has been a long journey but [the center] is right where it needs to be," she says happily. Along with promising project updates in the coming months, she says that another takeaway for the community about the new medical center is that by its very design it will be "a healing environment," incorporating a calm, earthy feel of space and artwork.
In the months ahead, improvements to the nearby intersection will include a new traffic signal. "It will be great for young kids who walk to school and families who have to retrieve their children…we are excited that we get to enhance it for the community there on Stanislaus," Stevens states.
It is also worth noting that the James Dalton Medical Offices will be the second multi-million-dollar facility opening next summer in Calaveras County. The Valley Springs Health and Wellness Center, a project of the Mark Twain Health Care District, will independently operate under the district, as reported here.