Teen Blamed For Vegetation Fire In Valley Springs That Threatened A Structure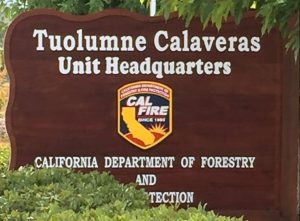 Cal Fire Tuolumne Calaveras Unit HQ sign

View Photos
Sonora, CA – CAL Fire updates Clarke Broadcasting on three fires sparked Friday afternoon; one that is being blamed on "playing with fire" and two others determined non-permitted escaped debris burns.
As originally reported here yesterday, CAL Fire initially reported a fire in the 3700 block of Harper Street in Valley Spring near New Hogan Lake just before 2 p.m. to be an escaped debris burn, but now CAL Fire Battalion Chief Matthew Gilbert updates that it was actually a 13-year-old boy who ignited the blaze, but he stops short of calling it arson.
"He was experimenting with fire and we determined that the juvenile was responsible," shared Gilbert, who added, "Was it an intentionally caused fire? Yes, it was, but we would classify that more with 'playing with fire' based on just the age of the juvenile and their mind set."
The teen was cited with a misdemeanor citation and Gilbert says it will be up to juvenile probation as to whether to pursue the charge.
Two other fires that same afternoon were contained at less than a quarter acre in size, and each and were the result of escaped debris piles, according to Gilbert. Around 1:30 p.m. in the Jamestown area of Tuolumne County off of Peppermint Falls Road, fire crews working in the area spotted a column of smoke and went to investigate, says Gilbert. Once on scene, they discovered the flames had spread from a burn pile.
The other fire was in the Glencoe area of Calaveras County. It was discovered by a Fish and Wildlife Officer in the area of Highway 26 and Three Cent Flat Road at around 4:30 p.m. and its flames had also escaped a burn pile into nearby grass.
Gilbert notes, "These fires were a direct result of not having a burn permit and not having proper clearance around the fire. So, neither one had the ten foot of proper clearance around the fire and if they would have those the fires would absolutely not have spread."
Burn permits went into effect for the Tuolumne Calaveras Unit of CAL Fire on May 1st. Gilbert wants to remind the public of these safety tips while burning, "Keep pile size small, down to a four foot size and have a ten foot of clearance down to bare mineral soil around the pile. Stay in attendance with a shovel and water supply." Most importantly he notes, "They also need to completely extinguish the fire when they are done for the day."
Misdemeanor citations were also issued in these fires. All cited could face prosecution and be forced to repay the cost of fire suppression efforts.
As earlier reported here, the governor has declared next week "Wildfire Preparedness Week," click here for details.