Roadwork Continues On Local Highways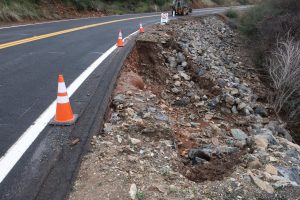 Highway 49 damage in Mariposa County

View Photos
Caltrans has several areas of road work  planned. This detailed schedule of work may change due to weather, traffic, availability of equipment, and other issues.
Be aware of a spraying operation that will limit traffic to one lane for 40 miles on Highway 4 from the end of the bypass to the Calaveras Alpine County line. The spraying will begin at 6 AM on Monday, May 6 and end at 6 PM each day through Friday. Also on Highway 4 there will be some utility work from Brice Station Road to Northwood Drive. The work will limit traffic to one lane and cause delays of 10 minutes on May 8 from 7AM to 5PM.
Highway 26 from HWY 49 in Mokelumne Hill to the Calaveras/Amador County line spraying work will limit traffic and may cause delays 10 minute delays. The work is scheduled for Monday, Tuesday and Wednesday from 6 AM to 6 PM.
On HWY 49 in Calaveras from Gun Club Road to HWY 12 be aware of a road striping Monday through Thursday from 9 AM to 4 PM. Also from Demarest Mine/Fricot Road to the Portable Truck Scale on HWY 49 utility work on Tuesday, May 7 will cause 10 minute delays.
As reported here Caltrans is extending the closure of HWY 49 for an area between Coulterville and Mariposa.  Specifically the part of HWY 49 that is closed is the area from HWY 132 just south of Coulterville to Bear Valley Road. The closure is extended through 7:00 PM on Thursday, May 23, 2019. Motorists can expect an additional hour of travel time.
At Highway 108 and 120 crews are working on the shoulder. The area is also where the Yosemite Junction stoplight is being set up as reported here. Shoulder work in the Chinese Camp area will occur between 7:30 AM and 3:30 PM Monday through Friday.
On Highway 108 from Soulsbyville Road to up above Pinecrest and Leland Meadows to Forest Route 4N12 road striping/the creation of rumble strips will cause 10 minute delays all week from 6 AM to 7 PM. From Clarks Fork Road to Kennedy Meadown Road tree work will close a lane long term beginning Monday, May 6.
On Wednesday and Thursday on HWY 108 from 9 AM to 4 PM crews will be replacing pavement markers from the Stockton Street turn off six miles to Via Estate/Rancho Poquitos.
Night work on Highway 108 from Tulloch Road to Rushing Hill Lookout Road will restrict one of the lanes to put in rumble strips. This week the work begins Sunday at 9 PM and ends Monday morning at 6 AM and each night through Friday morning.
On Highway 120 expect to see slope repair and clearing from Sweet Water Road to Saw Mill Mountain Area/Hardin Hill Court Sandhouse. The work will limit traffic to one-way Monday through Friday from 7AM to 7PM. There will also be work from the South Fork Toulumne Bridge to Golden Arrow Road. Both areas of slope repair may cause 10 minute delays.
Plans for midsummer bridge work are detailed here. Details from Calaveras County Public Works officials about the storm damaged Independence Road are here.
Also be aware that Tuolumne County will be out on local roads spraying as covered in the news story Weeds Be Gone In Tuolumne County.