Yosemite Junction Improvement Project To Begin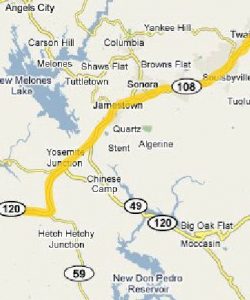 Highway 108 (Yellow), showing Yosemite Junction/120 and E Junction 49/Sonora

View Photos
Tuolumne County, CA – Caltrans crews will be working day and night to put up a light at the Yosemite Junction in Tuolumne County, meaning travelers will face delays.
The improvement project will help with traffic flow and safety at the intersection of Highway 108 and 120. Construction is slated to begin in early May and is anticipated to wrap up sometime in August, with round the clock work. Night hours will be 7 p.m. to 5:00 a.m. Sunday through Thursday. The daytime schedule is Monday through Friday from 6 a.m. to 6 p.m., except on Fridays when work will end at 3 p.m. Motorists could face up to 10 minute delays.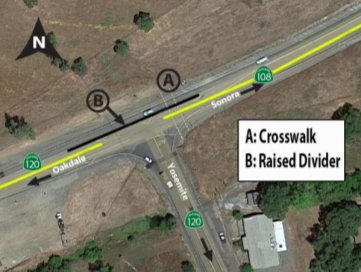 The plan involves using the above pictured "High-T" intersection, which allows westbound traffic on Highway 108 to only stop when a pedestrian or cyclist is crossing. Caltrans spokesperson Warren Alford says travelers heading west will rarely be stopped and see a green light most of the time. It is a plan that Tuolumne County Transportation Council has favored since first offered in 2015, as reported here.
To alleviate traffic back up in the area, currently when vehicles are trying to turn onto Highway 120 during high travel times, CHP officers are called out to direct traffic. The light will eliminate that need as vehicles eastbound on Highway 108 or turning left onto Highway 120 will now have a signal light to help them turn safely.