Midsummer Bridge Work Coming To The Mother Lode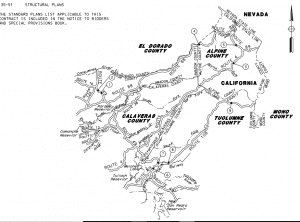 Caltrans Bridge Work Summer 2019

View Photos
Sonora, CA — More SB 1 funds are now earmarked for fixing several Mother Lode bridges in need of refurbishments.
Caltrans officials on Monday announced that the agency awarded a multi-million-dollar rehabilitation project to Myers & Sons Construction that will improve nine bridges on five highways in Tuolumne, Amador and Alpine counties with work set to begin sometime before or by midsummer.
In Tuolumne County, the bridges targeted for renovations are two along Highway 49-108 over Woods Creek; also the Peaceful Oak Road and Middle Fork Stanislaus bridges on Highway 108.
The slated work hours for all but the Middle Fork Stanislaus Bridge will be in the overnights Sunday through Thursday from 8 p.m. until 6 a.m. For the Middle Fork Stanislaus Bridge, crews will be conducting their work on a day schedule with cone zones set up Monday through Thursday from 6 a.m. until 6 p.m.; Friday from 6 a.m. until 3 p.m.
In Amador County, the Sutter Creek and Amador Creek bridges on Highway 49 will be under repair mostly in the overnight hours with workers in site from 8 p.m. until 6 a.m. Sunday through Friday.
In Alpine County, the involved bridges are Upper Cascade Creek Bridge on Highway 4, the Caples Lake Spillway on Highway 88, and the East Fork Carson River Bridge on Highway 89. Construction times for these three spans will tentatively run 6 a.m. until 6 p.m Monday through Thursday and 6 a.m. until 3 p.m Friday.
Anticipated delays will range depending on the work in progress.