Update: Calaveras Supervisors Emerge From Closed Session To Hire CAO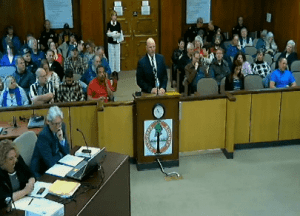 New Calaveras County CAO Dr. Albert Alt addresses at April 16 2019 supervisors meeting addressing the board following its 4-1 vote to approve his hiring

View Photos
Update at 11am: After meeting in closed session for an hour-and-a-half, the Calaveras Supervisors voted 4-1 to hire a new CAO, Dr. Albert G. Alt.
We reported earlier that the supervisors broke into urgent closed session at the start of the meeting to review new information about the candidate that arrived after the agenda was posted on Friday. Supervisor Dennis Mills was the lone no vote, as he requested more time to review the undisclosed closed session information. However, the other supervisors were in support of Alt, and offered praise. Afterwards Alt thanked the supervisors for the opportunity, and noted that it was a difficult decision to leave his current job at Modesto Junior College. Alt and his family live in Valley Springs.
Original story posted at 9:30am: San Andreas, CA — While the Supervisors were expected to formally hire a new CAO at the start of today's meeting, the action now appears to be in question.
Meeting documents prepared for today's meeting noted that the board had selected Dr. Albert G. Alt back on March 26 to serve as CAO, and directed staff to make a conditional offer and conduct a background check. The supervisors were planning to formalize the hiring this morning and set a start date of April 27. Click here to view an earlier story.
However, when the supervisors opened the meeting this morning, Interim CAO Manuel Lopez announced, "I need to inform you that we have received new information after the agenda was posted last Friday that is urgent for the board to review in closed session…this information involves a personnel matter that can only be discussed in closed session. I can assure the board that the information came to staff's attention after the agenda was published and posted, and that the timing is such that the discussion cannot be delayed."
Lopez confirmed that it was related to Item 2 on the agenda, which is the hiring of a new CAO.
We'll pass along more information when it becomes available.