New County CAO Hiring, Cannabis Work Session On Supes' Agenda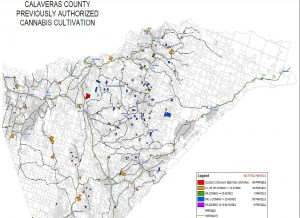 Calaveras county Previously Authorized Cannabis Cultivation Map

View Photos
San Andreas, CA – This week, high on the Calaveras supervisors' agenda is the formal hiring of a county chief executive and a hashing of potential marijuana cultivation rules.
Back in March, as reported here, Calaveras County Interim Chief Administrative Officer (CAO) Manuel Lopez confirmed that the board was in the process of making an employment offer to a lead candidate.
However, since they were not able to strike a final employment agreement, the board on March 26 unanimously voted to appoint Dr. Albert G. Alt to the position. It also directed staff to make a conditional offer and conduct a background check. With these activities now complete, the supervisors plan at the meeting to pass a resolution memorializing Dr. Alt's hiring with his start date of April 27.
According to the meeting documents, Alt has managed general fund budgets up to $400 million and capital improvement budgets up to $600 million. In past roles as a vice chancellor and chief financial officer, he led strategic financial planning that covered budget development and debt issuance. He also brings experience in human resources, risk management, and labor negotiations.
Alt was recently the vice president of college and administrative services at Modesto Junior College. According to county officials, the new CAO already lives in Calaveras County and serves on several local commissions and committees.
He holds a doctorate in education leadership from Drexel University, a master's in business administration, and is in the process of becoming a certified public finance officer through the Government Financial Officers Association. His base annual salary will be roughly $186,430, not including benefits.
Calaveras Reconsidering Allowing Cannabis Grows
During the board's Feb. 19 meeting it held an initial study session to revisit cannabis cultivation, during which a majority of the supervisors indicated the intention to pursue replacing the current ban with a strict regulatory ordinance. Since time did not permit staff to get sufficient direction to return with a draft ordinance, the board directed various department heads to bring back a revised list of questions and recommendations.
The meeting documents includes a lengthy list of considerations that staff is asking the board to address. There is also a map of legally registered grows that were in good standing with the county ahead of the previous board's decision to impose a ban on all commercial marijuana cultivation activities. To view the map, click into the image box.
The map is of particular interest in that the board at the initial study session specified to staff that only previously registered cultivators in good standing when the ban became effective who additionally had a temporary license from the state could be eligible to apply for a new county grow permit. Other direction from the board included that outdoor and mixed light cultivation could be allowed upon issuance of a non-discretionary permit on A1, AP and GF zoned parcels of 10 or more acres; RA parcels of 20 or more acres.
Additionally, such grows could be considered on RA zoned parcels between 10-20 acres and U and RR zoned parcels of 20 or more acres under a discretionary (AUP or CUP) permit and that a landowner may apply for a zone change consideration through the normal zoning amendment process.
Staff is recommending the board to adjust the minimum parcel size to 20 acres, noting that most complaints from residents were based on closer proximity of grows. Among several parameters already discussed back in February, the board would require full local compliance with all required permits, including structures.
Tuesday's meeting begins at 9 a.m. in the supervisors chambers at the county government center (891 Mountain Ranch Rd.).