Major Jamestown Roadway Project To Enter New Phase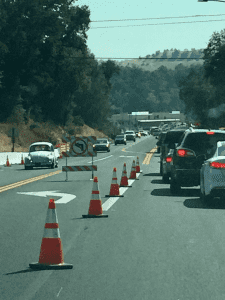 Jametown traffic during Signalization at 5th Avenue and Highway 108-49 July 19 2018

View Photos
Jamestown, CA — Major roadway improvements adjacent to Highway 108/49 and downtown Jamestown are about to shift into a new phase and traffic pattern.
What may come as good news for those who use 5th Avenue is that plans are to reopen to thru-traffic the section between the highway and just south of the CHP office that had been closed for several weeks during construction. The road is slated to be accessible again next Monday beginning at 7 a.m.
At the same time, Jamestown Road from Highway 108/49 to Woods Creek Bridge will be open to one-way traffic under a temporary signal located at the intersection of 5th Avenue and Jamestown Road. (You can view traffic images from the initial phase in the image box slideshow.)
Detour signs will be in place for motorists to follow, according to county officials, who advise that this traffic pattern will continue through Nov. 1. The work schedule for the roadway crews is weekdays from 7 a.m. until 7 p.m.
As reported here, based on a project timeline that estimates 115 workdays, work should complete sometime in December. In the meantime, as work phases shift traffic patterns, travel delays may range from a few up to 20 minutes.
The overall "Signalization at 5th Avenue and State Route 108/49 Project," as it was officially titled, is being handled by Sierra Mountain Construction, Inc. In the works for years, county officials, as reported here, identified this project over two years ago as a major signalization priority as it awaited final design work to submit with the county's environmental paperwork.