New Traffic Light To Go Live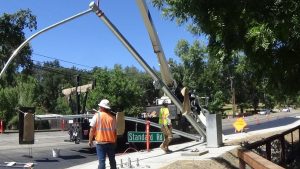 Tuolumne Rd. Light Installation, June 16

View Photos
Sonora, CA — Finishing touches are being made on a local road improvement project two years in the making, according to Tuolumne County officials.
County Community Resources Agency Supervising Engineer Tanya Allen reports that the signal at the intersection of Standard and Tuolumne roads will be ready to go live next Tuesday, June 28, heralding the completion of major improvements that have been underway since mid-April. Currently road crews are striping there, she advises, so motorists should anticipate some ongoing construction activity this week.
For those who have not driven through the area in awhile, Allen says to be on the alert for the new lane configurations. "You will see that on Standard Road there is a dedicated right lane…then you will have a dedicated left and through lane — and Tuolumne Road will now have a dedicated right lane to turn right onto Standard Road."
After next Tuesday, Allen admits there are still a few minor "punch list" items for the contractors, George Reed Construction and Pacific Excavation, to finish. The Tuolumne County Transportation Council (TCTC), which had a covered transit shelter installed, will also be adding a stop there along its bus route.
The next major signalization project in her queue, according to Allen, is at the intersection of Fifth Avenue at Highway 108, in Jamestown. Still awaiting PG&E design in order to finalize the county's environmental document for the project, she anticipates the work will go out to bid sometime in the fall of 2017.