Roadwork To Impact Traffic Through Jamestown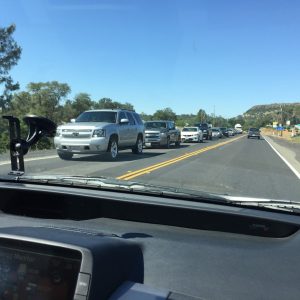 Traffic Delays Near Jamestown

View Photos
Sonora, CA — Intersection changes in the wings for Jamestown will bring travel delays possibly through December once construction begins in earnest.
According to Tuolumne County Community Resources Agency (CRA) Supervising Engineer Tanya Allen, pre-construction meetings have begun with the recently awarded contractor, Sierra Mountain Construction, Inc., for roadway improvements and a traffic signal at the 5th Avenue at Highway 108/49 intersection as well as modify the existing Jamestown Road at 5th Avenue intersection.
Allen shares that the next few weeks, which will consist of pre-construction fieldwork, is not expected to create any traffic impacts. Once construction work begins, probably sometime in mid to late July, she says three phases of traffic patterning, using one-way controls and detours, may generate delays of a few up to 20 minutes at times while the work zones are in place. Since 115 work days have been allocated, the project is expected to take until sometime in December to complete.
The scheduled work times will run weekdays from 7 a.m. until 7 p.m. Motorists should anticipate seeing construction signs and traffic control personnel when the work zones are in place.
Subcontractors for the project include Camblin Steel, Nitta Erosion Control, Pacific Excavation, Inc., and Chrisp Company.