Second Weekend In September Events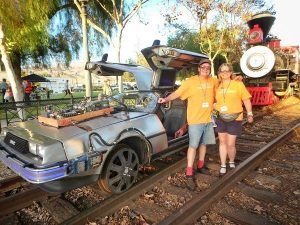 Oliver and Terry Holler During A Past Visit To Railtown 1897

View Photos
New and annual events are planned for the second weekend of September.
Tonight fans of the film Back to the Future III who have purchased a ticket can watch it at an outdoor theater off HWY 108 in the Red Hills area near where parts of the movie were filmed. The entry gate will be marked with a red umbrella and the gate opens at 6pm. The movie will start at 7:30pm. Attendees are expected from around the world to celebrate the movie and raise money for the Michael J. Fox Foundation for Parkinson's Research. Event details are here. On Saturday evening there will be a "Hill Valley Town Festival," similar to what was witnessed in the film, at Columbia State Park. It will include a dedication of the clock tower, numerous games and the Delorean time machine on display. There is no fee to enter the park but there will be opportunities to make donations.
Columbia State Park will also be celebrating 165 years of California statehood with a Parade Saturday as detailed here.  Back to School Night 1861, sponsored by Friends of Columbia State Historic Park, will run from 4:00-7:00 PM Saturday at the historic school on the hill.  On Sunday at Railtown 1897 in Jamestown, for a $200 donation, you can ride the Sierra #3 train used in the film and take a ride in the Delorean on the tracks. Railtown 1897 is also seeking Polar Express Volunteers. The news story about the 3 Back to the Future events is here.
Also Saturday at Railtown 1897 State Historic Park, join the Hold 'Em or Fold 'Em Texas Hold 'Em Poker Tournament to benefit support programs for students and families in the Jamestown School District. You can also check out Main Street in Jamestown and enjoy Saturday's music at Rocca Park.
Saturday morning the Sonora Farmers Market is open and Linoberg Street will be closed for the entire day, making a pedestrian walkway from farmers market to Washington Street. At 5pm Second Saturday Art Night will begin. Linoberg Art Mart (LAM) will feature handmade items, the Veterans Hall will be open, several businesses and galleries will feature entertainment and musicians. Coffill Park will feature the Steven Graves Band at 8:00 pm. There will be a no-host bar, and this year, thanks to the Sonora Chamber of Commerce, all the Coffill Park Summer Concerts are free.
At the Mother Lode Fairgrounds see unusual and exotic birds and animals at the annual Exotic Bird and Animal Show. There will be judges for a bird (Budgerigar) Competition and many booths featuring cages, toys, feed etc. adults $5, children 12 and under free, free parking. The event listing is here.
This weekend is the 52nd Acorn Festival organized by the Tuolumne Band of Me-Wu Indians with an inter-tribal Pow Wow, deep pit barbecue dinner, traditional dancers, hand games tournament and booths selling arts and crafts. The event listing is here.
At Wildcat Ranch early Saturday morning the Sonora Lions will host the 7th annual Glenn Bass Community Run/Walk.
Also early Saturday morning at the Tuttletown Recreation Area at New Melones Lake kids are welcome to join the C.A.S.T. for Kids Fishing Fun Fair
UCCE Tuolumne County Master Gardeners are hosting their Open Garden Day at Cassina High School. Discuss winter vegetable gardening, learn about permaculture from a guest speaker and buy a Master Gardener-grown Plant at the "Grown Here to Grow Here" sale.
Sierra Reperatory Theater is performing Baskerville: A Sherlock Holmes Mystery
at the Fallon House Theatre in Columbia.
In Bear Valley the 5th Endeavor Team Challenge will put teams of two through a 40-plus mile 30 hour race through the Stanislaus National Forest. The teams will hike, run, swim, kayak, climb, and navigate their way through the woods while encountering physical and mental challenges along the way. The orienteering and fitness challenge begins at 6AM Saturday and expects finishes at about noon on Sunday.