Going Back In Time This Weekend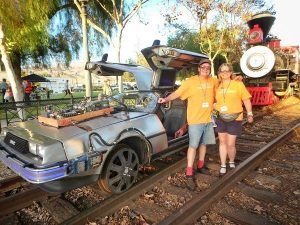 Oliver and Terry Holler During A Past Visit To Railtown 1897

View Photos
Jamestown, CA — Fans of the film Back to the Future III, which was filmed heavily in Tuolumne County, will be coming from around the world this weekend to celebrate it and raise money for the Michael J. Fox Foundation for Parkinson's Research.
The organizers of the upcoming events in the Red Hills area, Columbia State Park, and Railtown 1897 are Oliver and Terry Holler. They were featured in news stories, and even a documentary film, years back, for their efforts to build a replica of the Delorean time machine seen in the film and travel to all 50 states to raise money for Fox's foundation. Of course Fox, along with Christopher Lloyd, starred in the classic movie. Many locals still tell stories about the pair visiting various businesses and restaurants around Sonora and Jamestown during the filming.
Shooting of the final film in the trilogy began in 1989 and a set was built in the Red Hills area to depict the fictional town of Hill Valley in 1885. It was utilized for other films in the few years that past, but it was unfortunately destroyed by wildfire around 1995. Another local filming location for Back to the Future III was Railtown 1897 (the site of various locomotive scenes).
Oliver Holler tells Clarke Broadcasting that they have received permission from Universal Studios to show the film this Friday evening from the site of the original set. There will be an outdoor movie studio constructed to replicate the Pohatchee Outdoor Theatre from the film. Tickets are very limited for Friday evening, and more information can be found by clicking here.
On Saturday evening there will be a "Hill Valley Town Festival," similar to what was witnessed in the film, at Columbia State Park. It will include a dedication of the clock tower, numerous games and the Delorean time machine on display. There is no fee to enter the park on Saturday night but there will be various things to take part in for different levels of donations. Oliver adds, "There's a lot to do, and you can spend as much or as little as you like, but again it all benefits the Michael J. Fox foundation."
Then on Sunday, for a $200 donation, you can ride the Sierra #3 train used in the film and take a ride in the Delorean on the tracks. It is among various Back to the Future themed events planned for Railtown. Click here for more details.
When asked if he expects a big gathering of fans, Oliver replies, "We know for a fact that we have Back to the Future fans coming from all over the world. We have people confirmed coming in from Russia, Scotland, Denmark, France, Poland and Arkansas."
He ended the interview by emphasizing, "We'll see you in the future."