Donnell Fire, 85 Percent Contained, Holding On 34th Day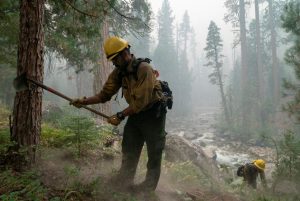 Working on Donnell Fire

View Photos
Stanislaus National Forest, CA — The Donnell Fire now at 36,349 acres, has shown minimal fire growth over the past couple of days and remains at 85 percent containment on what is now its 34th day.
Fire personnel totaling 164 continue working to confine and contain fire spread, with the priority remaining in the northern most portion of the incident area. Among the resources are four hand crews, two helicopters, five engines and four water tenders. No structures are under threat at this point. A timeline of Donnell Fire updates is here.
Incident officials detail that fire suppression repair on the southern portion of the footprint continues to be a priority for the Forest Burned Area Emergency Rehabilitation (BAER) Team, which takes immediate post-fire action to repair damages from fire suppression activities in order to minimize potential soil erosion and other impacts. They add that weather conditions look like they will continue trending warm and dry through the next several, producing slightly above normal heat with the potential in the afternoon to produce some cumulus buildups near the crest of the Sierra.
They emphasize that active fire, fire suppression actions, hazardous standing trees, and risk from rock fall provide clear indicators that the fire area is still dangerous and the public is restricted from entering the current closure area. This area includes all residences and campgrounds along Eagle Meadow Road (5N01), the Highway 108 corridor, and the Clark Fork Road area. Property owners may obtain permits for access through the Summit Ranger District.
What Else Is Open — Or Still Closed
A Revised Forest Closure Order (STF-16-2018-12) was issued on August 30, to open up areas of the Stanislaus National Forest not directly affected by the Donnell Fire.
This revised order supersedes the previous closure order and specifically means that the following have opened: Bull Run Lake and the trails leading to it on the Calaveras Ranger District; the south side of Highway 108 between Kennedy Meadows and Sonora Pass, the Sonora Pass Trailhead and the trail from Kennedy Meadows to Relief Reservoir (Trail 20E11) on the Summit Ranger District.
Spicer Reservoir is closed but the campgrounds remain open. Highland Lakes Road (8N01) is open to Tryon Meadow only; Highland Lakes Campground and Trailhead are closed.
The Pacific Crest remains closed between Highway 108 and Highway 4. Pacific Valley Campground is open but the trails at the Carson-Iceberg Wilderness boundary are closed.
Again, Highway 108 is open for thru-traffic only between Eagle Meadow Road (5N01) and Sonora Pass. However, Kennedy Meadows Resort, Relief Reservoir, Baker Campground, and Deadman Campground are open.
To view the previous incident update, click here.