Crews Concentrate On Northern, Eastern Donnell Fire Lines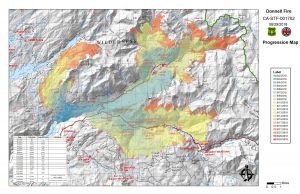 Donnell Fire Aug 29 2018 Progression Map

View Photos
Stanislaus National Forest, CA — Donnell Fire officials share minimal spread via spotting is possible north and east along Highlands Arnot and Disaster creek drainages.
The wildfire, now at 36,335 acres with 64 percent containment, is in its 30th day. More details in a timeline about the Donnell Fire is here. While demonstrating moderate fire behavior, officials report that it grew by just 17 acres yesterday and crews gained one more percent in containment. Steep, remote terrain in the active areas to the north and east continue to provide firefighting challenges, officials say, while the rest of the fire line perimeter is holding well as crews work to secure, strengthen and monitor those areas. Currently the personnel assigned is 578, which includes 13 hand crews, nine helicopters, 11 engines and four water tenders.
Given current and expected progress on the fire this week, officials note that a local Type 3 incident management organization will be transitioning in and assume command of the fire Saturday evening. Firefighters are coordinating with Resource Advisors in repairing natural, cultural and other resources affected by fire suppression activities. "Backhaul" activities to remove equipment and firefighting resources will accelerate over the next few days as the fire perimeter is secured.
Fire Area Closure Update
The Forest closure area continues to include all residences and campgrounds along Eagle Meadow Road (5N01), the Highway 108 corridor, and the Clark Fork Road area. Property owners may obtain permits for access through the Summit Ranger District. Spicer Reservoir is closed but the campgrounds remain open. Highland Lakes Road is open to Tryon Meadow only. Highland Lakes Campground and Trailhead are closed.
The Pacific Crest Trail remains closed between Highway 108 and Highway 4. However the order opened Highland Lakes Road (Forest Service Road 8N01) to Tryon Meadow. Pacific Valley Campground is open but the trails at the Carson-Iceberg Wilderness boundary are closed.
While Highway 108 is open between Eagle Meadow Road (5N01) and Sonora Pass, it is only to thru-traffic since fire personnel is actively working within the stretch. Kennedy Meadows Resort, Baker Campground, and Deadman Campground are open. Bull Run Lake and the 19E02 trail leading to it are also open.
To review the previous fire report, click here.