Encouraging Numbers On the Donnell Fire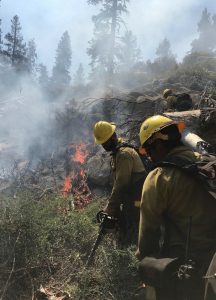 Donnell Fire

View Photos
Tuolumne County, CA – A nice hike in the containment on the Donnell Fire in the Stanislaus National Forest up to 42-percent containment while just a slight growth of 374 acres for a total of 31,743. An overview of Donnell Fire news stories is here.
A visible smoke plume can still be seen from Highway 4 north of Spicer Reservoir, as reported in yesterdays update here. Fire activity in this area increased overnight due to steep, dense vegetation, dry fuels and gusty south and southwestern winds. Incident Command reports that uncommon fire activity last night was observed in the northwestern portion of the Carson-Iceberg Wilderness. To combat that air tankers and helicopters will be making multiple drops today to try to moderate fire activity.
Additionally, the Hiram historic cabin has been wrapped with fire resistant material and nearby vegetation has been cleared to protect the structure as the fire continues to spread north. Further containment line was finished on the northwest and southeast portions of the fire. Moderate fire activity remains on the northeastern and eastern edges. Hazard tree mitigation continues along Highway 108.
Weatherwise, with the temperatures rising, lower humidity and fuel moistures along with increased winds up to 25 mph, vegetation is incredibly receptive to long distance spotting, according to fire officials who indicate that is a concern. The conditions are not expected to get any better through next week. Incident Command advises gusty afternoon west to southwest winds could make for more active fire conditions in the coming days.
Highway 108 remains closed between Eagle Meadow and the Tuolumne/Mono county line. The mandatory evacuation order remains from Eagle Meadow to Kennedy Meadows. The hope is to reopen the highway sometime next week, according to fire officials. Resources fighting the fire include 848 personnel, 16 hand crews, 5 helicopters, 46 engines, 3 dozers, 8 water tenders.