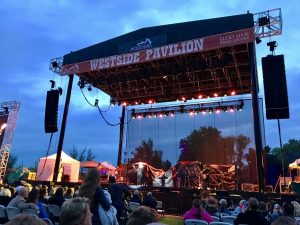 Westside Pavilion - Black Oak Casino Concert Series

View Photos
A review of the events and concerts planned this weekend as well as community fundraising events and more.
As Thursday's KVML "Newsmaker of the Day" reported most of Yosemite National Park has reopened as containment of the Ferguson Fire has increased. Details about access to various areas of Yosemite are here.
Tonight Sonora High Wildcats be at Oakdale with the varsity game kickoff scheduled for 7pm, as reported here. The high school football schedule is here.
At Sierra Repertory Theater's East Sonora Theater Pageant: Musical Theatre is playing. The Pageant features six beauty contestants battling for the title of "Miss Glamoresse" with the added twist; the contestants are all played by men. The show is rated PG-13.
William Shakespeare's The Tempest, Directed by Tara Kayton, will be presented by Shakespeare on the Vine Theatre Company at the outdoor Arden Stage at Brice Station Vineyards in Murphys. The play opened last weekend and continues Thursday, Friday and Saturday thru September 1st.
Friday night thru Sunday is River Ranch Music Festival at River Ranch Campground in Tuolumne. Details are here.
Smokey Robinson is at the outdoor Westside Pavilion in Tuolumne as part of the Black Oak Concert Series. The venue has 2,500 reserved seats and 3,500 general admission lawn seats for those bringing blankets or low folding chairs. The next show in the series is Tuesday, September 4 with Three Doors Down and Collective Soul.
This Sunday is Creedence Clearwater Revisited with America at Ironstone Amphitheatre.
The 5th Annual Gold & Outdoor Festival is at the Mother Lode Fairgrounds presented by the Delta Gold Diggers is this Saturday from 10am to 6pm and Sunday from 10am to 5pm. The family event offers events like metal detecting hunts for kids and adults, hands on equipment demonstrations, bucket mucking, gold pan toss and the chance to bring home gold and prizes. Details are here.
Saturday at 4pm in Murphys park enjoy food and music at the Annual Shrimp & Pasta Feed hosted by the Angels-Murphys Rotary Club.  Proceeds benefit Coats for Kids, Scholarships, Literacy Programs, Meal Programs for Seniors and low-income families, Local Park Improvements, Water and Humanitarian Projects, and Polio Eradication. All the details about the food, music and cost are in the event listing here.
Saturday at Ebbetts Pass Moose Lodge is an "Anything on Wheels" Car Show and Chili Cook Off. The family event will have pin striping demonstrations by Pete Nealfood, food and drinks and room to picnic, swim and fish at White Pines Lake and Park. Proceeds from the event help The Woman of the Moose Chapter 1714 support many local charities and non-profits that in turn, help children and the elderly in our community. More details are here.
Twain Harte's Concert in the Pines will feature Stompbox this Saturday at 6:00pm.