Donnell Fire Containment, Acreage Inch Up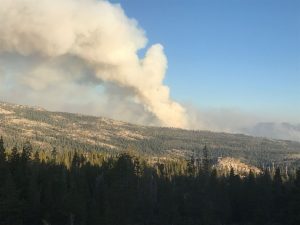 2017 Donnell Fire

View Photos
Sonora, CA — A visible smoke column near Highway 4 north of Spicer Reservoir earlier today drew notice while progress continues on the Donnell Fire burning in the Stanislaus National Forest. An overview of Donnell Fire news stories is here.
To view a related photo taken this morning, click into the image box slideshow. The blaze is now 30,079 acres and it is 30-percent contained. The fire has been most active in that area off Highway 4 near Spicer Reservoir. Some good news is that fire activity continues to slow on the southeast side.
Spokesperson Bob Francis relays, "We have containment almost that entire portion of it down close to Kennedy Meadows now. It showing really good progress and things are looking really, really good there." Francis adds, "The Bennett Juniper tree, I know everyone is concerned about that one too. It's looking pretty strong down through that area also."
Highway 108 remains closed at Eagle Meadow and the reason it has not reopened yet is hazardous trees.  The CHP is expressing hope is that the closed highway stretch could reopen as early as next week.
Dodge Ridge resort officials shared that they were granted an escort by fire crews yesterday, to check out Clark Fork and Sand Flat campgrounds, which they continue to operate under a 1982 U.S. Forest Service agreement. They also shared photos that indicate (to view, click into the image box slide show) that both areas were spared from the flames. The resort operates a total of 11 different campgrounds from Fraser Flat, Pinecrest, Meadowview and Pioneer Trail to the Clark Fork and Brightman complexes further east on Highway 108.
Mandatory evacuations remain for all residences and campgrounds along Highway 108 from Eagle Meadow Road to Kennedy Meadows as well as along Eagle Meadow Road (5N01) and the Clark Fork Road area. No new mandatory evacuations have been ordered. The Mill Creek area is still under an advisory evacuation.
Resources on scene include 873 personnel, 16 hand crews, 5 helicopters, 46 engines, 3 dozers and 8 water tenders.
A special thanks to our community partner Jay Power for sending in the Highway 4 smoke plume photo.
To read yesterday's coverage, click here.