Update: Donnell Fire Fight To Save Recreation Sites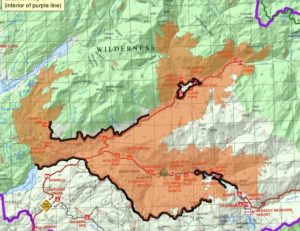 Donnell Fire Map

View Photos
Update at 10:45am: Forest Service spokesperson Phyllis Ashmead has provided Clarke Broadcasting with new information about the fight to save popular recreation sites like Kennedy Meadows and the Clark Fork campgrounds. An overview of Donnell Fire news stories is here.
Ashmead says, "There is some good news about the southern edge of the fire. The firefighters have been able to add more containment line around the perimeter between the Bennett Juniper and Kennedy Meadows, so that is getting buttoned up. Overall, fire activity has gone down significantly."
She adds, "We also have new information that Clark Fork and Sand Flat campgrounds are in-tact, and, the other camps along Clark Fork Road made it through the fire as well."
As a result of the continued success, the night shift will start downsizing, with most of the effort to be focused on daytime suppression.
Ashmead still cautions that they are "not out of the woods yet," as hotter and drier conditions are anticipated in the days ahead.
The fire remains 29,596 acres and 26-percent contained. There is no word yet on when Highway 108 may reopen. The mandatory evacuation order remains in place between Eagle Meadow and Kennedy Meadows.
We reported earlier that 54 structures have been destroyed by the fire and an additional 81 outbuildings. The hardest hit areas were around the Dardanelle Resort and Brightman.
Update at 8:35am: The Forest Service reports that better perimeter mapping has resulted in a drop in the Donnell Fire's estimated containment to 26-percent. The size is now 29,756 acres. While some rain fell over the footprint yesterday, the incident command team reports that it did little to increase fuel moisture levels, so there was not much benefit in the fire fight. The weather is expected to be hotter and drier over the coming days.
Click here to view the latest Donnell Fire Map
Original story posted at 6:30am: Tuolumne County, CA — The Donnell Fire in the Stanislaus National Forest is now 29,715 acres and 27-percent contained.
934 firefighters are on scene. Crews are making good progress on both the east and west ends of the fire. For a while yesterday, however, teams suspended suppression efforts while thunderstorms passed through. The mandatory evacuation order remains in place between Eagle Meadow and Kennedy Meadows.
Forest Closure orders remain for the Carson-Iceberg Wilderness on the Summit and Calaveras ranger districts and Spicer Reservoir. Highway 108 is closed from Eagle Meadow to the Tuolumne/Mono county line. The Alpine County Sheriff's Office has closed the gate at the junction of Highway 4 and Highlands Lake Road. The Pacific Crest Trail is closed between Highway 108 and Highway 4.