Yosemite Valley And Grove To Reopen Next Week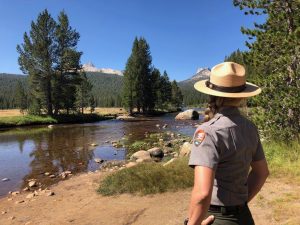 Less smoke visible at Yosemite National Park

View Photos
Yosemite, CA – A sigh of relief from Yosemite National Park officials are they announced that main attractions in the park are set to reopen to visitors next week.
Ranger Scott Gediman relays, "The Mariposa Grove of Giant Sequoias will reopen to the public this coming Monday, August 13th. And most exciting, we will be opening Yosemite Valley back to visitors this coming Tuesday, August 14th." Both will reopen on those days at 9 a.m.
The valley has been closed to visitors since Wednesday, July 25th due to poor air quality from the Ferguson Fire along with firefighting operations. The reopening was pushed back twice and then finally put on indefinite status this past Sunday, as reported here. It is the longest closure of the area in more than two decades. Gediman advises that visitors can get to Yosemite Valley from the El Portal Road (Highway 140), the Big Oak Flat Road (Highway 120), or the Tioga Road (Highway 120). There is no access to Yosemite Valley by way of Highway 41.
The Mariposa Grove of Giant Sequoias can be accessed through the South Entrance (Highway 41). It had been closed for a three year restoration project. The grove had only reopened to visitors less than two months ago before being shut down by the fire. The South Entrance (Highway 41) is the route to use to get to the Wawona area.
Park visitors are asked to use caution traveling in the park with the fire still being active and smoke in the area. They advise that delays on the roads are possible due to firefighter operations. Additionally, visitors can expect limited hours and visitor services at park facilities until normal operations return.
While thanking the firefighters and the gateway communities for helping displaced park visitors, Yosemite National Park Superintendent Michael Reynolds shared, "This is truly a historic and unprecedented event in park history, and we are thrilled to welcome back visitors to Yosemite Valley and the Mariposa Grove."
Areas that will remain closed include: Wawona Road (Highway 41) from Wawona to Yosemite Valley and Glacier Point Road for at least another week. No time frame has been given for when the Hetch Hetchy Area will reopen.