Calaveras OES On Disaster Related Road Repairs, Tree Removals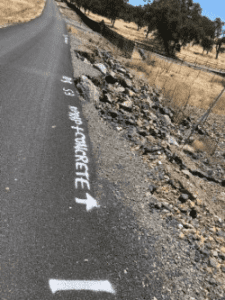 Calaveras County marked road for repair July 2018

View Photos
San Andreas, CA — Still recovering from the Butte Fire of nearly three years ago and more recent damage from devastating storms, Calaveras County is marshaling its resources to address several major repair projects.
Updating Clarke Broadcasting as to related road repairs, OES Director Michelle Patterson recounts that the county has been working over the past several weeks on sites within the Butte Fire burn scar. She comments, "Our own Road Department is working on this project and the collaboration with the Department of Public Works has been incredible — this is 100 percent a team effort and we have a great team." She adds that Disaster Recovery Coordinator Jeremy Denbow has proved to be a great asset in helping expedite processes.
With regard to the 2017 winter storm damages, she reports that OES has made progress on completing documentations of all the projects with the goal of getting them pushed through simultaneously from the permitting and clearances side. "Whatever [project] comes out the other end first is what we move on next," she says simply although various elements, like engineering studies and some of the construction have to go through a competitive bid process, which she describes as going smoothly.
Road Repair Project Highlights
Blagen Road: OES will soon issue an RFP for hydrology and engineering studies. "Once the results of those studies come back, we will proceed with issuing an invitation to bid for the construction," Patterson notes.
Gwin Mine Road and Canyon View Drive: Patterson considers these projects as probably the most complicated of those resulting from the disastrous 2017 winter storms. Her office is preparing to send updated photos to state and federal agencies responsible for granting clearance and/or permits to proceed. "Again, like Blagen Road, hydrology and engineering study RFPs will be issued soon. Once we have the engineering study back for this project, we'll need to submit it to FEMA to revise the project to include the solution to fixing the damage," she shares.
Murphys Drive Culvert Crossing: "In order to fix Murphys Drive Culvert Crossing, the waterway will need to be 'de-watered' by setting up very simple dams on either side of the crossing," Patterson explains. "All of the documentation required has been submitted to the US Army Corps of Engineers to apply for the permit to alter the waterway," she adds, further noting that the hydrology study RFP should be issued in the next few days.
Hawver Road: "This site will again require the requisite clearances and permitting because we will need to get into the waterway to fix the crossing. Engineering and hydrology studies are forthcoming," she says.
Pennsylvania Gulch Road repairs are being added to the county's road works schedule as the Department of Public Works has everything needed to repair the site, according to Patterson. Similarly, CSA 4, Diamond XX, Horseshoe and Stagecoach roads are currently being worked into the schedule for repair by the county's Public Works crew.
Dead, Dying Tree Take Downs
As far as the county's Tree Mortality disaster recovery plan is concerned, Patterson reports that TSS Consultants, which is serving as the management entity, is steadily making its way through slated segments. She emphasizes that it is critical that if residents receive the Right of Entry forms in the mail that they return them quickly so the county can survey, mark and remove any trees located on private property that may impact county infrastructure. The removals are being done at no cost to the involved landowners. Anyone with related questions should contact Dr. Richard Harris at 707-685-5508. For more details, click here.
The county completed its first tree mortality mitigation project in the Pinebrook Subdivision near Arnold, which involved the cutting and removal of over 50 trees on more than 30 residential parcels. The second project, still underway, involves taking down approximately 350 trees on 163 parcels located in the Blue Lake Springs and Fly In Acres subdivisions on the Highway 4 Ebbetts Pass corridor.
The third project still in planning stages will address removing over 160 trees in Blue Lake Springs, east of Moran Road, Lilac Park, Fly In Acres and
Grizzly Ridge subdivisions. As far as Project Four goes, trees on more than 275 parcels have been marked in Big Trees Village. As for Project Five, the county is contacting property owners in the Meadowmont, Lakemont and White Pines subdivisions. TSS Consultants' foresters, working for the county are still identifying hazardous dead and dying trees in and around the Project Six Westpoint/Wilseyville area, which Patterson anticipates to begin shortly.