Sonora High Hoping To Sell Portion Of Wildcat Ranch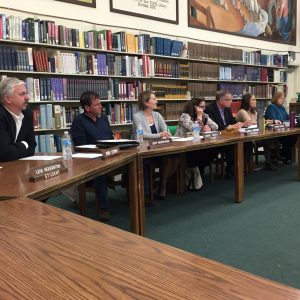 Sonora High Trustees (archive image)

View Photos
Sonora, CA — Last night the Sonora High School Board of Trustees voted 4-1 to declare a section of the 138-acre Wildcat Ranch as "surplus property."
It is a legal step towards potentially selling or leasing the land.
Superintendent Pat Chabot tells Clarke Broadcasting, "The idea is that we would keep somewhere between 30-40 acres to use as our Ag Ranch, and with the proceeds from the sale of the rest of the property (100 acres) we would be able to fund the further development of our Ag Ranch. The entire property (Wildcat Ranch) was never meant to be an Ag Ranch. It was bought back in the late eighties to be a new high school but because of declining enrollment it never came to fruition.
It was a heated debate at last night's meeting as many supporters of the agriculture program have been very opposed to the sale.
Chabot adds, "What we are hoping is that any entity that purchases the property will maintain the existing cross country trail and develop the land into something for the public good. We don't want it developed into homes or condos or anything like that. We want it to kind of remain as natural as possible and develop it for services for the school, and community, that we can all use."
We reported earlier that one group that has expressed interest is the Park Foundation. Click here to read an earlier story.
Chabot stresses that any offers can be denied by the district, and the potential sale would go through a public review process. There will be a multiple tier process for receiving bids on the land. It will first be made available to public agencies, and government entities, and later non-profits. We reported earlier that the entire Wildcat Ranch was recently appraised at $820,000. The property is located at the intersection of Tuolumne Road and Wards Ferry Road.
Also last night the board picked five finalists to interview for Chabot's superintendent position. They will be questioned by local stakeholders on July 16-17.