Park Foundation Submits Proposal For Wildcat Ranch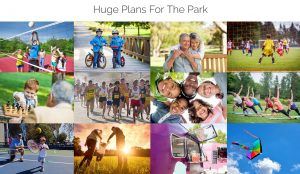 Park Foundation Images
Sonora, CA — The Sonora Union High School District has received an offer for the Wildcat Ranch.
A new foundation comprised of local leaders is hoping to create a regional community park that will serve as a central destination in the heart of Tuolumne County. Plans are to construct trails, sports facilities and other recreational related aspects (Click on the video box to see a brief overview of the plan).
The proposal submitted to the Sonora High School district board last night calls for exchanging the district's Wildcat Ranch property (137 acres) on Wards Ferry Road for property adjacent to the high school (22 acres which wraps around the school). During negotiations, money would likely be added by the Park Foundation, as the agreement stipulates that the high school and foundation negotiate a fair market price based on appraisals of the properties.
Foundation President Ron Jacobs tells Clarke Broadcasting that the 22 acres near the high school helps mitigate the loss of the Wildcat Ranch, as it would allow the school to relocate the ag program, and also allow for campus expansion if the student population increased in the future.
The Park Foundation also plans to maintain the existing cross country course on the Wildcat Ranch and make it available to the high school and community.
Jacobs adds, "I think the Sonora High School District has a tremendous opportunity to solve their problems and issues regarding accessibility (distance to Wildcat Ranch), but also make something really big happen for our community. It is a development (park) that I think the community really needs, especially our youth."
No formal action was taken last night regarding the proposal, as the school board saw it for the first time. The high school district now has 60 days to review the letter and take action. The Park Foundation's Board of Directors includes Jacobs, Roger Haughton, Jay Canavan, Ron Patel, Mike Jones, Albert Barreno, Gail Witzlsteiner and H. Randolph Holder.
You can view the full letter submitted to the district by clicking here.
The group's website can be found here.