DOJ Helped Tie Suspects To Local Crime Spree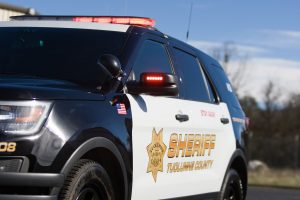 Tuolumne County Sheriff's Office Vehicle

View Photos
Tuolumne County, CA – Tuolumne County Sheriff's officials believe they have solved a string of burglaries in the Long Barn and Cold Springs area with help from the Department of Justice (DOJ).
Three juveniles from Tuolumne County were arrested in connection with at least seven burglaries in an end of May crime spree, as reported here last month. Sheriff's officials detailed the crimes revealing that two males and a female would stake out properties along Lassen and Old Mono roads. Once they determined that the residences were unoccupied or vacation homes they would break in through a window. The thieves would take items like alcohol and video game systems and even vandalized some of the houses by writing on the walls. The burglaries came to an abrupt halt when one of the male juveniles was arrested after stealing a pickup truck from the area.
At several of the scenes, investigators found fingerprints and submitted the evidence to the DOJ. The results are in and sheriff's officials say they positively identify the three juveniles. Some of the property has been returned to the victims.
The suspects' names are not being released due to the fact that they are juveniles.