Juveniles Arrested For Burglaries Near Pinecrest Area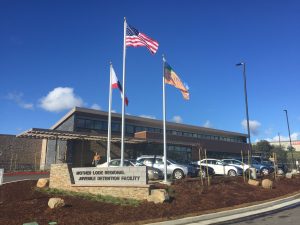 Mother Lode Regional Juvenile Detention Facility

View Photos
Colds Springs, CA — Tuolumne County Sheriff's Office arrests juveniles charged with several recent burglaries and a vehicle theft in the Long Barn/ Cold Springs area.
According to Tuolumne County Sheriff's spokesperson Sgt. Andrea Benson several burglaries on Lassen Road and Old Mono Road (see map below) were reported to the sheriff's office last week. After an investigation, deputies were able to link three juveniles, two males and one female, to at least 7 burglaries in the area. When one of the male juveniles stole a pickup truck from the same area they were apprehended and booked into the Juvenile Detention Center.
The Sheriff's Office notes the juveniles were looking for signs homes were unoccupied, noting whether people were seen coming and going from a property and even looking in trash cans for signs of residency. The juveniles entered homes through windows and took items such as alcohol, game cameras, video game systems, tools, clothing, and also vandalized several of the homes with graffiti. 
Sgt. Benson offers tips to vacation homeowners: 
Get to know neighbors and leave contact information with them so that you may be reached in the event of a suspicious circumstance around your home.
To help deter burglars we recommend a surveillance system be installed and have neighbors keep an eye out on your home. Choose a home security system that uses motion detectors and arms all windows and doors that could provide access. Consider using glass break sensors that set off the alarm at the sound of a window or glass door panel being broken. Some sensors also detect sudden shock waves and will set the alarm off if someone is trying to kick open the door.
Make your home looks lived in and occupied by picking up any newspapers or moving garbage cans around.
When loading or unloading suitcases, do so discretely and inside a closed garage if possible.
Always park your car in the garage with the garage door closed when you are there. That way someone watching for patterns won't know your car isn't there when you're gone.
Arrange to have your lawn cut or snow removed from your walkways and driveway if you're going to be gone for a long period of time.
Lighting: Set lighting on a timer to go on and off at various intervals. The same kind of timers you use on lights can also be used to turn radios or TV's on and off.  A burglar is more likely to try getting into a house where there is less chance of being seen. Taking away cover goes a long way toward protecting your house. Thieves can hide behind trees and shrubs. Trim back or remove any shrubbery next to doors or windows. Use outside security lighting to illuminate every access door, outbuilding and shed. Use exterior lighting with motion detectors for the yard, driveway and other outside regions. If lights come on when someone approaches, a burglar is less likely to try breaking into your home. Also, if the lights are activated by motion rather than being left on all the time, your neighbors are more likely to notice if someone is moving around your house. Remember, the back and side of your home offer some concealment for a burglar who is trying to break in, so pay close attention to securing all entrances. If possible avoid installing a tall privacy fence since that offers even greater concealment.
Keep a detailed inventory of your valuable possessions, including a description of the items, date of purchase, original value and serial numbers. Keep a copy in a safe place away from home, this is a good precaution in case of fires or other disasters. Make a photographic or video record of valuable objects, heirlooms and antiques. Your insurance company can provide assistance in making and keeping your inventory. This will also assist law enforcement in returning your items to you if found.
 If your home is broken into, call law enforcement immediately.
Do not touch anything or clean up until the police have inspected for evidence. Write down the license plate numbers of any suspicious vehicles and note the descriptions of any suspicious persons and report suspicious vehicles, persons and activity to the Sheriff's Office at 209-533-5815.