'Where the Hell is Groveland?' Car Show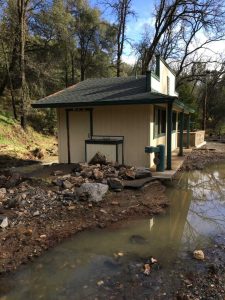 Flood damage by the concession stand at Mary Laveroni Park

View Photos
Groveland, CA — Tourists wanting to attend the 17th Annual "Where the Hell is Groveland?" car show may literally be asking that question as it has been canceled due to flood damage.
The event is held in Mary Laveroni Community Park in Groveland. The March 22 storm flooded the lower section of the facility including a parking lot where the car show is held and in its wake left extensive damage, as reported here earlier this month.
Organizers tell Clarke Broadcasting that they looked at other possible venues to try to save the event, but were not able to work out the necessary logistics so it had to be called off. Tourists may not want to mark it off their calendar of summer fun list just yet, as organizers are still racing to find potential alternative dates later in the year. If a date is confirmed organizers will furnish it to the public as soon as possible. Anyone who has already paid the entrance fees should contact Carole Smith at 209-962-6119.
During the storm, that has been called a "Century Flood Event", according to organizers, Groveland was deluged with over 8 ½ inches of rain. Additionally, many historic town buildings and homes were saturated nearly two feet deep in water, as reported here.
Of note, the Tuolumne County Board of Supervisors unanimously voted to declare a local state of emergency due to the flooding to garner state funding for cleanup and repairs.