Supervisor Gray: Tuolumne County Considering State Of Emergency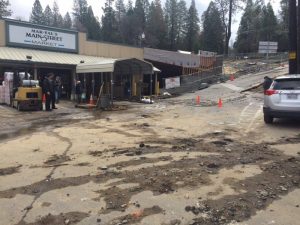 Flood Damage In Groveland

View Photos
Sonora, CA — After several businesses and roads, notably in Groveland, were damaged by yesterday's atmospheric river, Tuolumne County officials are assessing the damage today.
Board Chair John Gray, whose district covers Groveland, says, "We're looking at the damages to see if it is at a level where we need to declare a state of emergency. If that happens, we may be able to secure (state) funds for some of the repair. I was told that we had about an inch of rain an hour, for five hours, yesterday. That would be as much rain that I think we've ever seen in Groveland during one period of time."
Gray says he experienced a delay getting back home to the community yesterday after Highway 120 was closed. When he did return, he witnessed some of the flood damage that occurred along the Highway 120 corridor, noting that it looked like "a number of the buildings were flooded on the north side of town."
Gray adds, "As for loss of business, it is an incomplete list, but I know the All Season Inn will probably not be able to open for a while because they pretty much lost their whole parking area. I understand there was some flooding in the Hotel Charlotte, and the Mexican restaurant. Back behind the community hall, the water also washed out the parking lot near the Hotel Charlotte."
Gray plans to head out later today to assess more of the damage. He is also very concerned about the Moccasin Fish Hatchery that was flooded, noting that it is a major economic driver for the county. He says he knows that some of the fish were definitely lost, but fears the worst case scenario that most all of them could be gone. There was also a stretch of Highway 120 near Big Oak Flat that was heavily damaged when Rattlesnake Creek overflowed. A stretch of Ferretti Road is also closed, just past the Pine Mountain Lake main gate, due to damage.