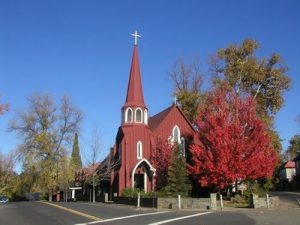 St. James Episcopal Church

View Photos
There are several events planned today and this weekend and local theater performances. Sierra Repertory Theater is performing Million Dollar Quartet in Columbia at the Fallon House. Bret Harte High School will perform the Addams Family Musical with Gomez, Morticia, Wednesday and the rest of the family this weekend only.
Next weekend two more shows open, Driving Miss Daisy at Black Bart Theater in Murphys and Rodgers and Hammerstein's Cinderella at Calaveras High School.
Today at lunch is the 16th Annual Sierra Nonprofit Services "Volunteers, the Heart of Tuolumne County" Awards Luncheon. The event is an acknowledgement and reward for the many individuals and local organizations who selflessly donate their time and services in our volunteer community. The luncheon is held at the Sonora Elks lodge, more details are here.
This evening the Motherlode Martin Luther King, Jr. Committee is hosting a free screening of the documentary film, "King: A Filmed Record… From Montgomery to Memphis," at 6 p.m. at the main library meeting room in Sonora.
Saturday is the Mother Lode Round-Up Great Steak BBQ at the Posse Grounds on Rawhide Road. Details in that, the Rawhide Classic Team Roping and Barrel Race there and more Round-Up events are all in the community calendar listing here.
This Saturday is Earth Day, as reported here, Yosemite National Park is offering free activities, free park admission and YARTs bus rides will be free Saturday and Sunday. The park is also celebrating National Junior Ranger Day, National Park Week, Park Rx Day, and John Muir's birthday this weekend.
Utica Park in Angels Camp will host its Annual Earth Day event with venders and performances. Railtown 1897 in Jamestown is offering Wildflower Train Rides and Columbia College Community Chorus Spring Concert will be held Saturday evening at the St. Matthew Lutheran Church in Sonora.
As reported here Saturday at there will be a Fly-In and Open House at the Calaveras Airport. Next weekend at Columbia Airport is the Young Eagles Rally.
Swing by the Calaveras Fairgrounds for the Crafty Chicks Road Show for fresh spring goodies. Crafty Chicks (and Dudes) provide a selection of locally handcrafted, vintage, upcycled, repurposed and curated treasures for home and garden, decor, boutique, jewelry, children's and baby goods. Food trucks and more for $1.00 admission, event listing here.
Tuolumne County's Relay For Life will be hosting a multi-team yard sale fundraiser at the Junction Shopping Center on April 21st from 8am-2pm. All proceeds will go to the American Cancer Society. The event listing is here.
Saturday the Old Mill Run in Columbia Benefits the Tuolumne County Community Christmas Eve Dinner, and WINGS FUND.
Saturday in Railroad Flat is the  8th Annual Fashionable Afternoon of Tea and Twain Harte Bible Church is hosting the Annual Ladies Tea ~ Be Our Guest. Saturday at the Sonora Moose Lodge is the Sip & Shop Wine Tasing and Vendor Fair with live Jazz music and more to raise money for Safe Surfin which benefits law enforcement. At the Sonora Hills Clubhouse is a T ' Wine Party (short for tea and wine party) hosted by Friends of the Tuolumne County Library.
For even more excitement the Parent Teacher Club of Toyon Middle School is hosting Casino Night this Saturday at San Andreas Town Hall.