Yosemite Readies Its Earth Day Festivities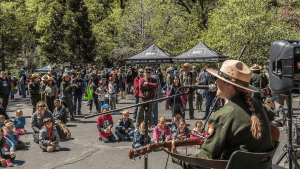 Park Ranger Kate performs music on the Earth Day Stage.

View Photos
Yosemite National Park, CA – As folks around the world prepare to celebrate Earth Day this weekend, Yosemite National Park officials share that not only will there be free activities but free park admission on Saturday and gratis YARTs bus rides both days.
From 10 a.m. until 2 p.m. this Saturday, April 21, park rangers at the Valley Visitor Center will provide a full slate of all ages activities designed to demonstrate and educate how the park preserves and protects the public's natural and cultural resources. The day will also include celebrations in honor of National Junior Ranger Day, National Park Week, Park Rx Day, and John Muir's birthday.
Among the offerings are interactive musical performances with Ranger Kate and booths featuring face painting and traditional tool demonstrations. Those who bring an empty single-use camp propane canister can trade it for a refillable one at the Yosemite Zero Landfill booth. Sign up for ways to help the environment at the Volunteers in Parks Booth, where park supporters can lend support to a litter clean-up project.
Other attractions include ranger-guided walks at 10 a.m. and 1 p.m.; art projects at the Happy Isles Art and Nature Center; a photo walk through Yosemite Valley with photographers from the Ansel Adams Gallery; also a free performance of UC Merced's Shakespeare in Yosemite production: A Midsummer Night's Dream.
Park officials note the weekend is expected to be a busy one that will fill parking areas early in the day, so those planning to attend are advised to arrive early. Visitor parking will be available at the Yosemite Village Parking Area and at Half Dome Village. All are encouraged to park and then take the free park shuttle to the Yosemite Valley Village and Visitor Center.
YARTS (Yosemite Area Regional Transportation System) buses will also be running multiple times daily – FREE this Saturday and Sunday both. For more details on that, click here.