Busted: Two More Criminal Grows Inside Residential Homes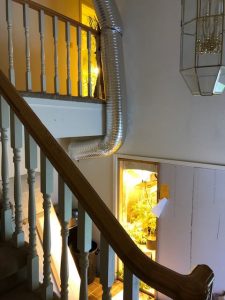 Indoor Grow Busts April 16 2018 CCSO Photo

View Photos
San Andreas, CA – After a Monday raid on two illegal grow operations in local residences, the Calaveras County marijuana enforcement team destroyed nearly 1,150 plants, roughly estimated at $2.3 million in street value, sharing other worrisome details.
It turns out, sheriff's officials say that both of these bust locations have links to the same criminal organization as a dozen others previously eradicated in the vicinity. As we reported here, these operations have further ties to a major federal investigation underway on illicit cultivations behind closed doors in Sacramento-area neighborhoods and in nearby outlying counties.
Investigators report today that most of a large, two-story Burson residence on Hillvale Lane raided on Monday had been converted for marijuana cultivation. Besides both floors of the main residence, where ducting was snaked up over the bannisters of the sweeping, main entrance staircase, plants were also being propagated in the attached three-car garage along with inside a guesthouse and another garage on the property.
While no arrests came out of the raid as no subjects were found on scene during the service of the search warrant, the team eradicated 919 marijuana plants.
Sacramento Suspect Arrested, Environmental Concerns Logged 
However, at the second grow operation, an entire house and garage located in the 2000 block of Huckleberry Lane in Valley Springs, deputies arrested a 42-year-old suspect, Yuanqiang Feng, whose identification listed him as a Sacramento resident. Deputies arrested him on a felony charge of maintaining a drug house and for misdemeanor illegal marijuana cultivation.
The raid also yielded an additional 228 marijuana plants for eradication. Authorities note that many of the plants in one of the rooms were infested with spider mites and webs. Officials add that the use of certain pesticides and other chemicals inside both residences is part of the case investigation. To view photos of the bust operation, click into the image box slideshow.
Along with investigating an apparent trend in criminal grows hiding, masked, behind the doors of area homes, the Calaveras County Sheriff's Office is interested in hearing from the public about information pertaining to any potentially illegal marijuana cultivation sites or sites manufacturing concentrated cannabis.
It is important to note that under the recently enacted ban on commercial medical marijuana operations, legally registered growers under the former regulation ordinance have until June 8 to come into compliance.
The Sheriff's Marijuana Tip Line can be reached by calling 09 754-6870.