Chinese Criminal Group Behind Grow House Busts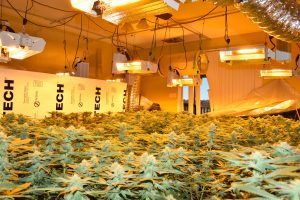 Unregistered Indoor Valley Springs Grow Bust Dec 7 2017

View Photos
San Andreas, CA – A crackdown on transnational organized crime underway, involving over 100 mostly Sacramento-area indoor grows, is linked to a dozen seizure and eradication cases Calaveras County officials have located since last fall.
Yesterday, Calaveras sheriff's officials say that the Department of Justice released details about a sweeping two-day multi-agency operation that targeted foreign-funded illegal residential marijuana grow houses. Agents seized over 100 homes and searched over 70 properties.
Even more interesting for Mother Lode residents, Calaveras sheriff's officials share that a dozen Valley Springs-related grow house busts since November 2017, many which Clarke Broadcasting has reported on, have links to the same criminal organization.
Calaveras investigators provided details about these busts to the Organized Crime Drug Enforcement Task Force (OCDETF) as part of a joint enforcement effort to further the overall investigation; all 12 of these locations are in federal seizure process. Local officials report seizure and/or eradication totals from these properties came to 9,741 marijuana plants, 148 pounds of processed marijuana and around $11,000 in cash; five arrests were made. The cases all remain under investigation.
Sacramento Sting Links To Fujian Province, China
The multi-agency operation was conducted by the Federal Bureau of Investigation (FBI; Drug Enforcement Administration (DEA); U.S. Immigration and Customs Enforcement's (ICE) Homeland Security Investigations (HSI); the IRS Criminal Investigation. Among the assisting organizations are: the U.S. Marshals Service, the California Highway Patrol (CHP), U.S. Customs and Border Protection Air and Marine Operations, the Sacramento County Sheriff's Office and Elk Grove Police Department. At the end of its two-day sweep, agents seized approximately 61,050 marijuana plants from the houses and approximately 200 kilos of processed marijuana along with 15 firearms.
State and federal law enforcement agencies report they have been investigating a number of indoor marijuana grows in residential neighborhoods throughout the Sacramento area for the past four years. Further investigation found houses in the cities of Sacramento and Elk Grove and the counties of Sacramento, Calaveras, Placer, San Joaquin, El Dorado, Yuba, and Amador.
Some of the common elements in the related cases include that down payments on the houses were financed by wires mainly from Fujian Province, in China; operators used common Sacramento realtors, straw buyers and hard-money lenders rather than traditional banks. The residences would then be converted into large-scale marijuana grows that often occupied a substantial portion or even the entire house. These multi-million-dollar funded real estate purchases generated grows yielding hundreds or thousands of marijuana plants that were processed and distributed to other parts of the country, particularly the Eastern United States.
Transnational Criminals A Neighborhood Blight
The houses themselves generally used extraordinary amounts of electricity per month due to high-wattage lighting, circulatory fans, and other equipment, posing fire and environmental hazards. The activities frequently left the residences damaged or uninhabitable; brought other operators into the neighborhoods; drew increased risk of crime from burglaries, robberies, and related activity.
U.S. Attorney McGregor W. Scott, FBI Special Agent in Charge Sean Ragan, DEA Special Agent in Charge John J. Martin, Homeland Security Investigations Special Agent in Charge Ryan L. Spradlin, and IRS Criminal Investigation Assistant Special Agent in Charge Cindy Chen issued a joint national release yesterday. In it they describe their operation as one of the largest residential forfeiture efforts in the nation's history to eradicate criminal enterprises operating in neighborhoods throughout the Sacramento region.
Commending the effort, Attorney General Jeff Sessions thanked all the cooperating agencies. He also stated, ""Transnational criminal organizations are a blight on our communities, bringing dangerous drugs to our streets and trying to impose a false sovereignty over our neighborhoods." He added, "The day I was sworn in as Attorney General, President Trump ordered me to make dismantling these organizations a priority, and we are carrying out that order with vigor. Today we take a major step toward that end using civil asset forfeiture, which is a key tool that helps us defund organized crime and weaken the criminals and the cartels. We have searched and filed forfeiture actions against dozens of houses allegedly used for criminal activity by Chinese drug traffickers, making this one of the largest residential forfeiture actions in American history."
Identifying, Disrupting Dismantling The Drug Supply 
Attorney Scott also commented on the criminal organization behind the busted network. "The scope of this enforcement operation sends a clear message to international organized crime: get out of our neighborhoods. If you don't, we will pursue you with all of the resources available to the federal government, seize your assets, search your properties, and target you for criminal prosecution. The success of this operation speaks to the effective partnerships across the federal and local law enforcement community and our united commitment to reduce violent crime in our residential neighborhoods by taking them back from criminal organizations with international ties and financing."
Adding his comments, FBI Special Agent Ragan of the Sacramento Field Office said, "Our partnerships within the intelligence and law enforcement communities are essential to ensure identification and coordinated investigation of those who threaten our neighborhoods with crimes such as drug trafficking, money laundering and human trafficking."
The OCDETF program was established in 1982 to conduct comprehensive, multilevel attacks on major drug trafficking and money laundering organizations. It describes its principal program mission is to identify, disrupt, and dismantle the most serious drug trafficking and money laundering organizations and those primarily responsible for the nation's drug supply.