Second Weekend Of February Events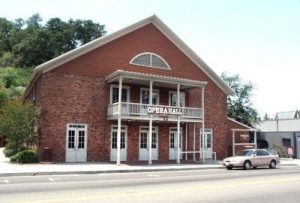 Sonora Opera Hall

View Photos
There are many events planned this weekend including two featuring Chocolate.
Tomorrow the Sonora Opera Hall will host Friday Flix featuring the movie The Birdcage. The first 50 people to pay $5 to get in receive a goodie bag with interactive props, everyone is encouraged to sing along with songs in the movie. There will be a costume contest at 6:30PM, popcorn and a no host bar and the movie starts at 7:00PM. More information is in the event listing here. Friday Flix are sponsored by the Sonora Chamber of Commerce and 2nd Saturday Art Night, this Saturday Downtown shops and art gallerias will be open late for 2nd Saturday Art Night.
At the Mother Lode Fairgrounds the Unitarian Universalist Fellowship of Tuolumne County is hosting a Chocolate Lovers' Hoedown dinner. Details are here.
This Saturday, February 10th, the Emigrant Basin Pack and Social Club is holding its 17th annual Scholarship Dinner at the Sonora Elks Lodge. Details were featured today in the KVML Newsmaker and here.
At the Calaveras County Fairgrounds in Angels Camp is the AMA Annual Crab Feed which raises money for youth sports.
In Murphys from 1pm to 4pm on Saturday is the 7th Annual Heavenly Chocolate Festival put on by the 1st Congregational Church. Also on Saturday the Angels Camp Museum is hosting a Living History Day.
Sierra Repertory Theater is performing Mamma Mia! Musical Theatre
and Tuolumne City Live will perform The Matchmaker, directed by Art Delgado, details are here.
Sunday in La Grange is the Monthly Odd Fellows' Breakfast, and the Christian Heights Church is offering Financial Peace University.
At the Bret Heart Theater in Angels Camp on Sunday the Ovations series will feature: Saint Gabriel's Celestial Brass Band.