Developments, Arrest Made In Home Burglary, Stolen ID Case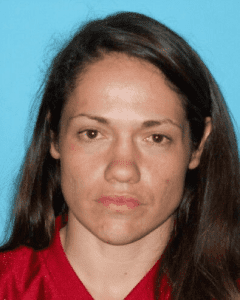 Janitta Garcia TCSO Booking Photo

View Photos
Sonora, CA — Investigators caught a break in an active burglary, credit card and identity theft case for which they asked the public's help to identify a suspect and vehicle of interest.
According to Tuolumne County Sheriff's spokesperson Sgt. Andrea Benson, deputies caught up with a woman who had been using a silver 2006 Chrysler 300 and, as reported here, using a credit card stolen in the burglary of a Strawberry residence to make purchases in Sonora and Oakdale.
Sgt. Benson shares that deputies spotted the same vehicle this past Friday night and were able to identify the driver as 33-year-old Janitta Garcia of Oakdale. She was seen exiting the vehicle and entering Jamestown's Chicken Ranch Casino, after which in-house security saw her and reported seeing her exit through the back of the building and getting into another vehicle. Deputies following leads were able to locate Garcia a short time later at Black Oak Casino in Tuolumne City, where she was arrested and booked on charges of conspiracy, burglary, ID theft and grand theft stemming from the burglary case, for which the investigation is still ongoing. Her bail was set at $50,000.
Benson credited the security teams at both casinos for their help and partnership with local law enforcement. "Anytime you have a business or an area open 24/7 — where people can go and stay up and…things are happening there [in the late night], because it is an open business," she states. Working to keep their patrons safe and in tandem with law enforcement, she says, is key to helping keep criminal activities from happening.