Tuolumne County School Superintendent Bulkin To Bow Out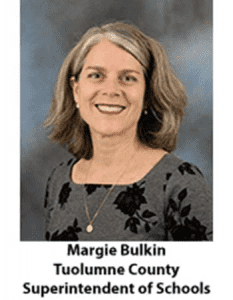 Margie Belkin Tuolumne County Superintendent of Schools

View Photos
Sonora, CA — A top, long-time Mother Lode educator has announced her plans to retire at the end of this year.
After a 34-year public education career, Marguerite "Margie" Bulkin says that she will retire once her current term of office wraps up this year on Dec. 31. No candidates had pulled papers for the purposes of collecting in-lieu signatures to run for her office. The window opens for those interested parties in registering to seek nomination for the June 5 ballot next week.
In a prepared statement released Monday afternoon, Bulkin noted it was time to let the next generation build upon the accomplishments made during her tenure, adding that her decision was motivated by her desire to spend more time with her family, including her parents and grandchildren. She also indicated that she plans turning her focus to training teachers and aspiring school administrators at the university level.
Recounting back upon her tenure, Bulkin says her office has been largely involved with and responsible for the review and approval of school district's Local Control Accountability Plan (LCAP) as part of the Local Control Funding Formula (LCFF), while exercising her office's authority under Assembly Bill 1200 to ensure that the county's educational agencies are adequately preparing and meeting their financial obligations. As reported here, Sonora Union High School District particularly came into her cross-hairs last January as she worked with its board to ensure that it was addressing the need to make tough budget-trimming choices brought about by failing to more proactively deal with declining enrollment numbers.
Along with traditional school settings and working with all local the unified school districts, which she complimented, Bulkin also kept busy helping advocate pathways to high school diplomas for the county's at risk school youth and adults. To this end, her office in 2015 was awarded accreditation from the Western Association of Schools and Colleges (WASC). Programs instituted since then have enabled inmates in the Tuolumne County Jail, Motherlode Juvenile Detention Facility and at risk students at the Tuolumne Learning Center to gain valuable training and earn alternative education diplomas.
Bulkin also shared glowingly about her recent work as chair of the Columbia College Foundation Promise Scholarship Committee, which when the program is fully funded, will guarantee a period of full-time paid tuition and college admission to county high school graduates.
A career educator, Bulkin began working in Tuolumne County in 2007. She served as Superintendent of the Sonora School District as well as for Curtis Creek School District before beginning her work in the County Education Office, initially as Deputy Superintendent of Schools before earning her way to the top spot.