Events The Last Weekend of January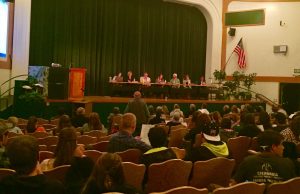 School Board meeting held at Sonora High School

View Photos
Regardless of unpredictable weather, events are planned in the last days of January. Here is an overview of local events from our community calendar.
This Friday Jan. 26 the Columbia Jazz Artist Series invites Jazz fans to "get your toes ready for tapping." The Sonora High School Jazz Band will open the show and will be followed by the Columbia Kicks Big Band at 6:30pm. A crowd of special guests and singers are slated to join in the jam. Tickets for the concert are $15 each, VIP prices, and details on where to get tickets and make reservations are in the event listing here.
Saturday's Odd Fellows Burns Supper is sold out, but if you have tickets remember to dress in a dark suit or Highland attire (Scottish flair, and kilts are encouraged) to celebrate Scottish culture and Scottish poet Robert Burns. All proceeds generated from the event will go to the Sonora Odd Fellows Foundation, a 501(c)(3) non-profit organization that provides services and financial assistance to support Tuolumne County foster youth, the sick, and the elderly.
In San Andreas the Calaveras County Museum is hosting A Day At The Museum, sponsored by the San Andreas Rotary and the Calaveras County Historical Society. Visitors are welcome to dress up for the occasion from the 1800's era if they want to the entry fee per person is $1. View their event listing here.
From 10AM to 4PM experience a GAZA hero workout created in memory of Major Lucas Gruenther and to benefit the Major Lucas Gruenther Legacy Foundation. The event welcomes athletes of all ages and abilities and can be performed as an individual or as a team. Pre-registration is required and participants will get a t-shirt, there will be raffle and silent auction prizes as well as snacks and drinks. Details are here.
Sunday there is a Ridgewood Neighborhood general membership meeting and the St. James Concert Series presents Golden Bough, an ensemble of modern-day minstrels, offering a program of selections from their most recent recordings as well as previous recordings, lively sing-a-longs, ballads, and rousing instrumental pieces. Details are here.
Wednesday January 31st is a unique full moon and so far our local weather forecast says it will be partly cloudy. Wednesday morning the moon's elliptical orbit will bring it 31,068 miles closer to Earth making it "supermoon." Also, there was a full moon on January 2nd so this will be the second full moon in January, called a blue moon, in addition the moon will pass through the Earth's shadow turning it a red color beginning at 4:51AM. The moon will be completely red at 5:29AM and just after 6AM it will be back to normal before it completely sets at 7:13AM.
More events are scheduled next Saturday and the Sunday Superbowl Breakfast and the list of all upcoming events is here.